IMAGE OF THE WEEK ARCHIVE

www.ramsayflies.com | 610.858.2426 | henry@ramsayflies.com

Thinking of Springtime ....................

January 05, 2015


I spent most of the past few days working on a large fly order for one of my favorite customers, and needed a couple dozen duns and emergers to imitate this mayfly. Paraleptophlebia adoptiva, more commonly known as the "Early Blue Quill" is a very cool mayfly and this weeks image is my favorite shot of one. This one is a male spinner I shot on the Delaware River near Stockport, New York a few years ago. It seems like April is an eternity away as I write this, but you can be certain that when it does arrive I'll be ready with a box of fresh flies to imitate them. Till then .........
Checking In ....................

February 16, 2015


A good friend called me today to see how I was which really made my day. I had been off the grid since breaking my shoulder and haven't posted for a full month. In spite of being dormant I'm far from checked out and there will be no auctions of tackle and materials anytime soon, and I do hope to be tying some in the next week. Thanks Kris for checking in and offering your well wishes; it really meant a lot to me. Here's a pic of Kris working a section of the upper Tulpehocken creek near Womelsdorf, Pennsylvania. The upper Tully flows through some of Berks Counties more scenic farm country, and my favorite shot of him working this section of the creek.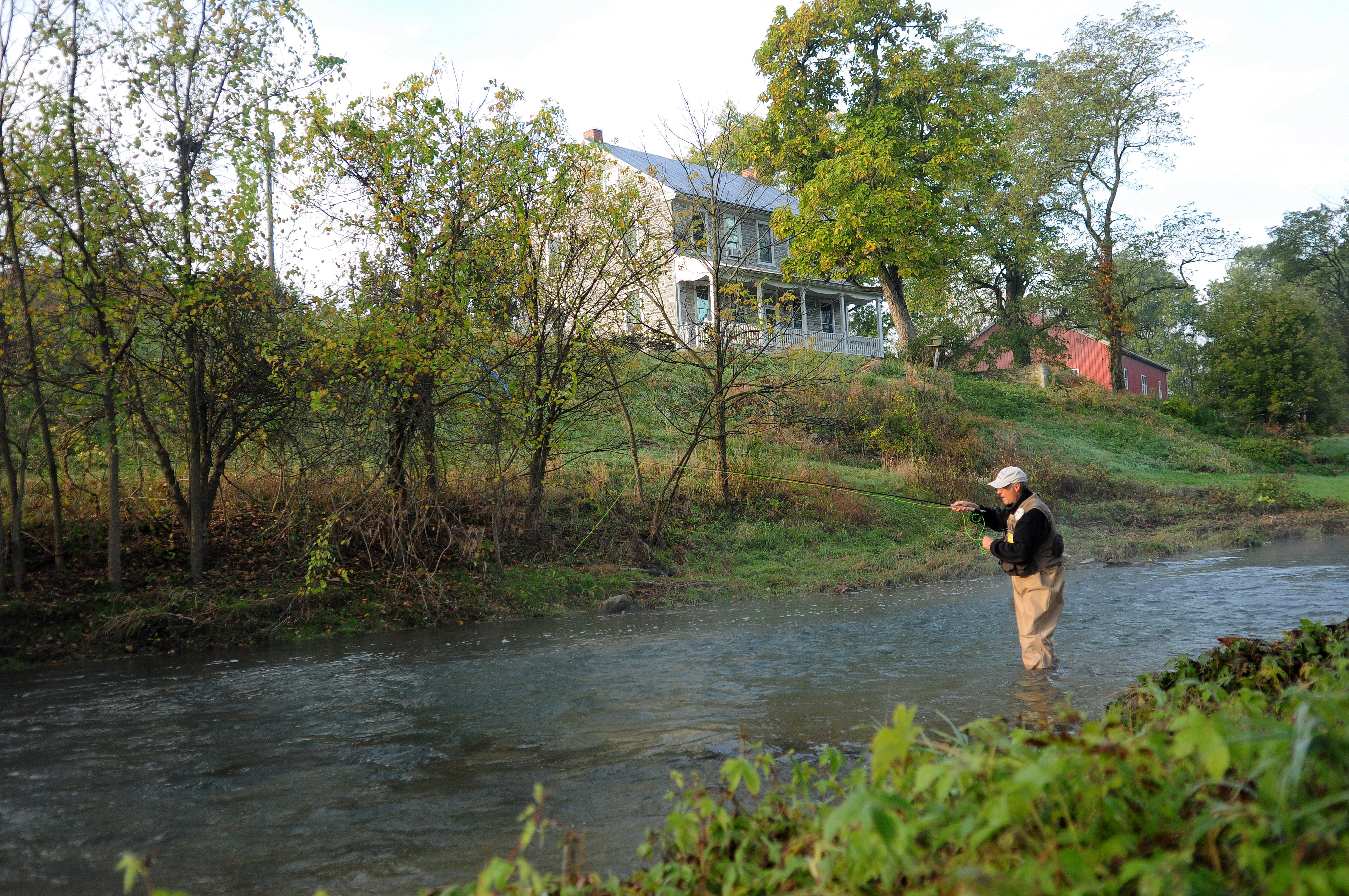 Sulphurs ....................

February 23, 2015


This Wednesday, the 25th I'll be giving a presentation about my favorite mayfly hatch, the Sulphurs at the monthly meeting of the Delaware Valley Fly Fishers in Yardley, Pennsylvania. My talk will look at the Sulphurs as well as a number of the look a like mayflies that are often miss-identified by many anglers. I will show some very simple, non-scientific methods to identify those mayfly species. I will also talk about my favorite fly patterns to imitate each stage of the Sulphur life cycle. Very stoked about speaking to this club's members. Hope to see you there ..................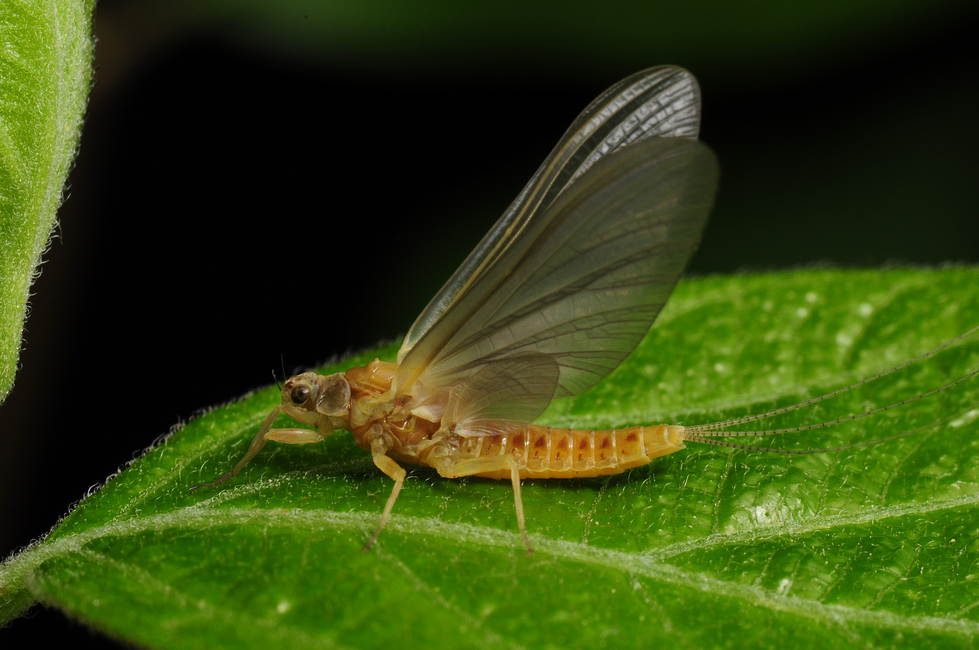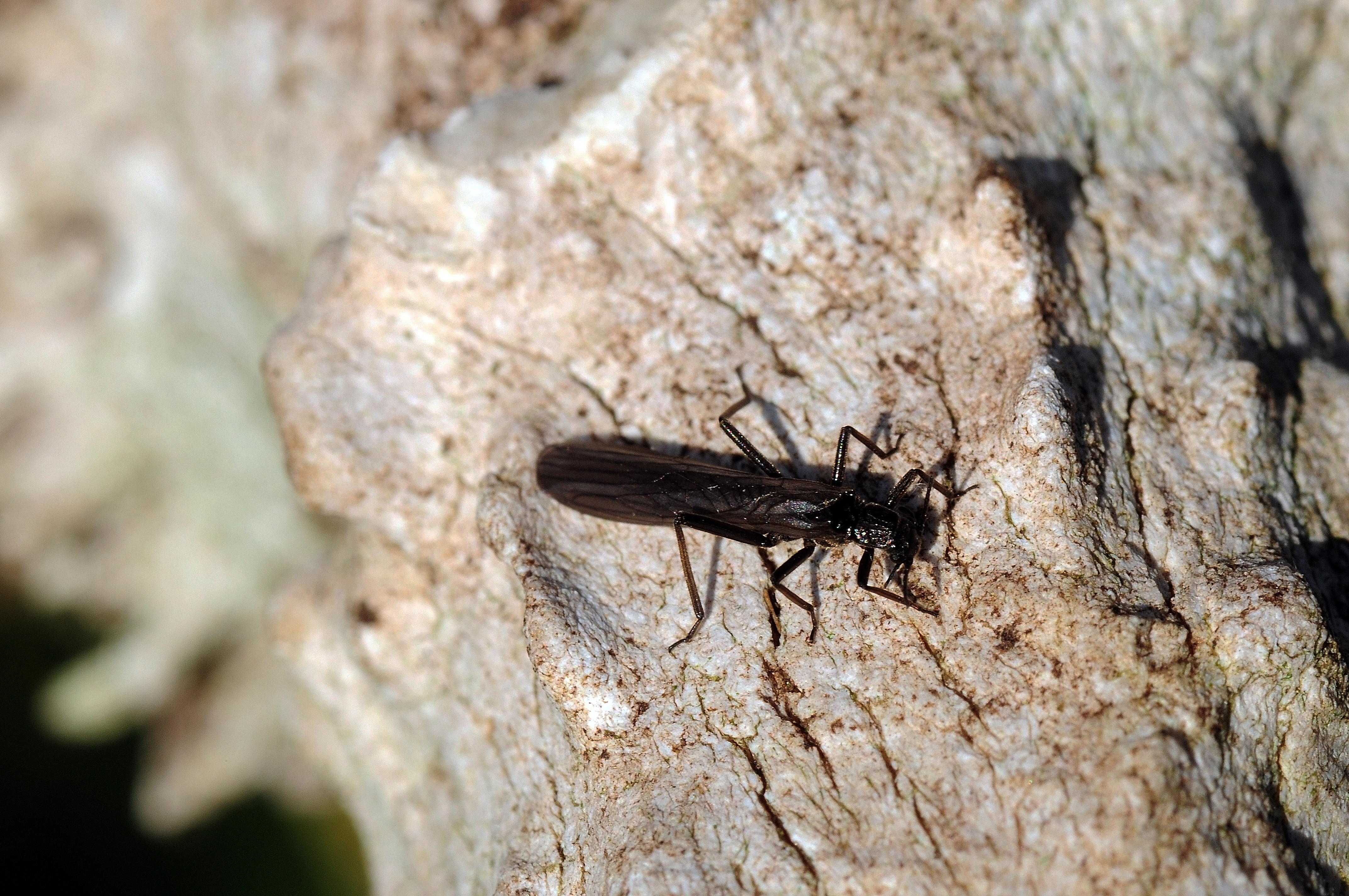 Early Black Stoneflies .......

March 09,2015


It's that time of the year againwhen we start to see these little bugs hatching. After a very cold winter, some of the early signs of springtime are beginning to show including the Early Black Stoneflies of the Taeniopteryx genus which are often the first we see here in Pennsylvania and the rest of the east. A really good pattern to imitate them is my Little Yellow Stone pattern tied in an all black version. Spin yourself a few of these in sizes #16 and 18 on Daichii's #1260 hook and take advantage of a chance to get some early dry fly action!
Back in the Game .......

March 16,2015


Breaking my shoulder in mid-January was painful in many ways; and although I'm left handed, I tie flies right handed which was the side that was injured. When this went down I was in the middle of tying an order of #22 Blue Wing Olive Thorax Duns, and when I felt ready to try tying I wanted to go for something less intense. The images here are some of the soft hackle patterns I practiced with. I enjoy tying and fishing them and look forward to getting them wet soon.
Golden Stonefly Nymphs .......

March 23,2015


Years ago as a boy I used to capture stonefly nymphs and fish them as live bait. As a teenager I left the dark side for good and found myself working really hard to come up with a great imitation of them. Legendary tyers like Ted Niemeyer, Dick Talleur and Yas Yamashito were huge influences back then and over the course of time I tried a number of approaches from highly realistic to very vague suggestive patterns, and in conclusion came up with this pattern. This pattern captures many of the elements of the real McCoy without being static and stiff, which usually leads to a quick rejection by the fish. Chapter 14 of Matching Major Eastern Hatches goes into detail about the thought behind this pattern. Try tying a few and you will likely want to tie more.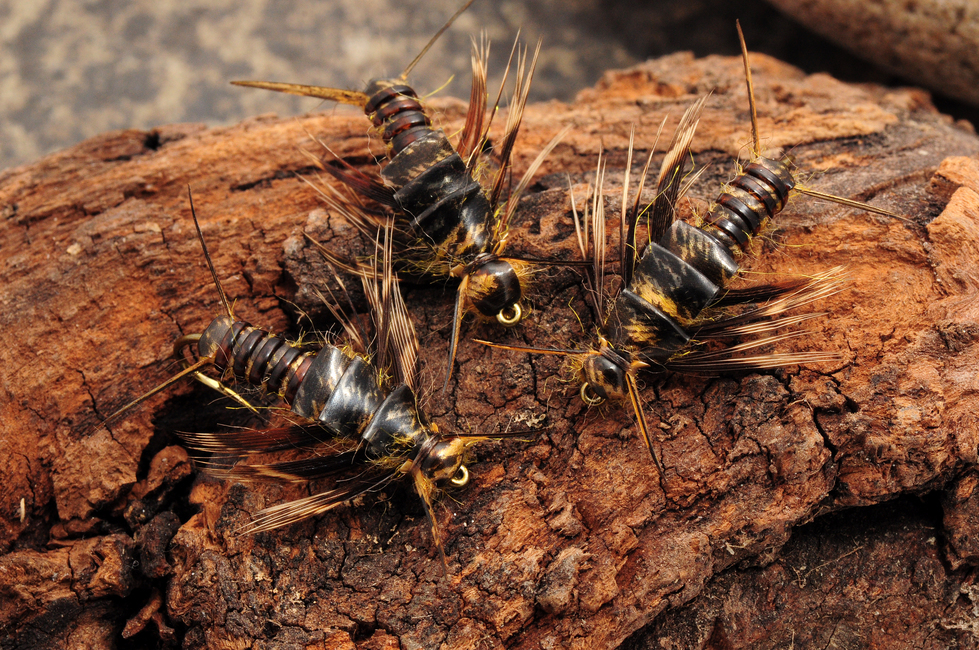 Burrowing Mayfly Nymphs ....... April 13,2015
Mayfly nymphs are found in four unique groupings which include crawlers, clingers, swimmers and burrowers. Each is unique in configuration and pose varying challenges for fly tiers to imitate them. The burrowers have some features that are very different from other mayfly nymphs and one of those is their movement as they swim to get to the streams surface to emerge. Pictured here is my pattern for imitating the burrowing nymphs of Ephemera, Ephoron and Hexagenia. The nymph is articulated to imitate the action of the live nymph as it struggles to reach the film and emerge into an adult. My book goes into a detailed tying sequence to tie this style nymph. Enjoy!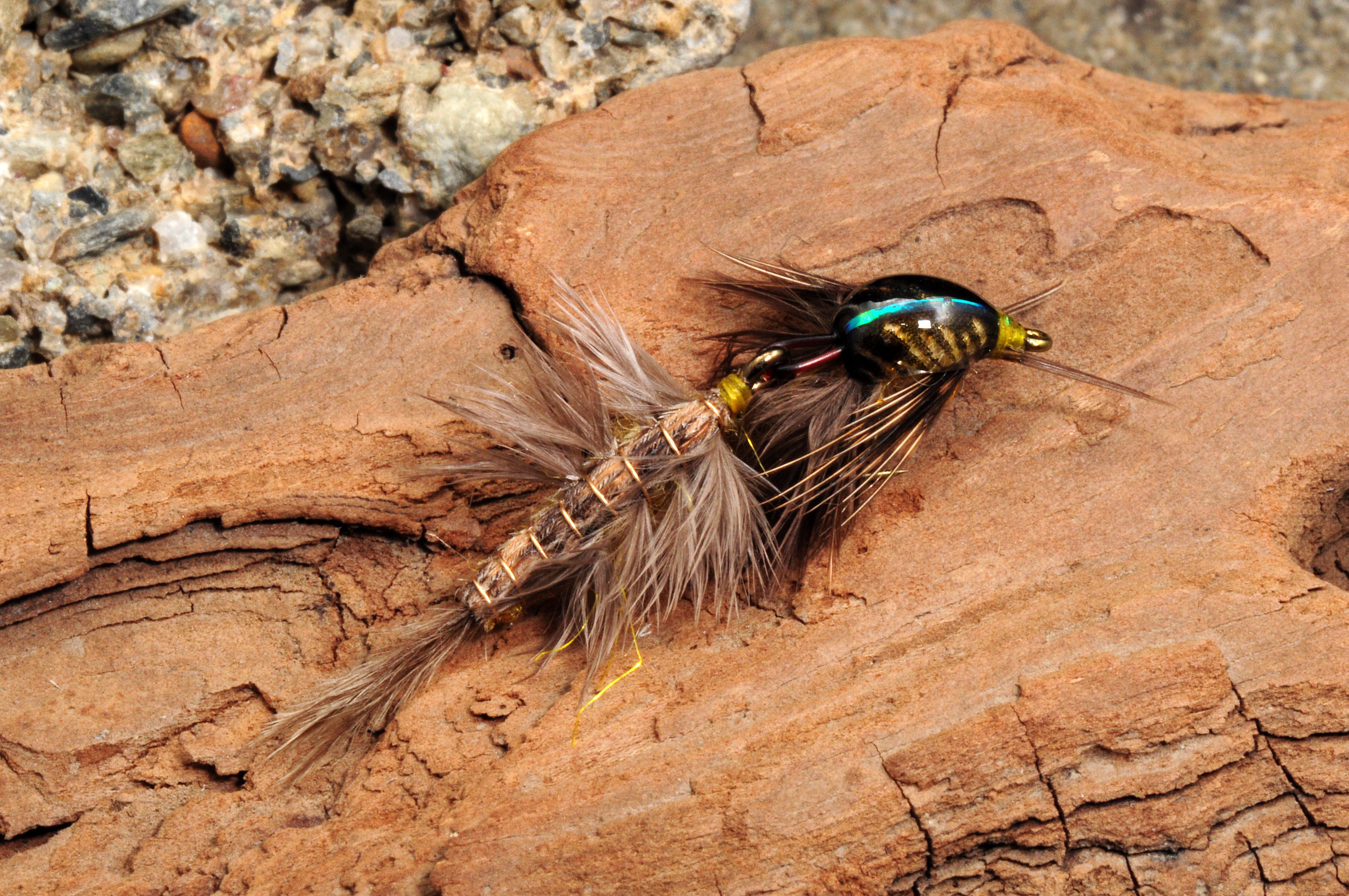 Bug of the Week....... April 20,2015
A new season, a few new bug pics in the can and a chance to post a new "Bug Geek of the Week" contest for all of my bug geek friends. I spent yesterday on Pohopoco creek in the Pocono Mountains of Pennsylvania (clue). There were a ton of these in the air and on the water, but sadly the trout chose to ignore them. A very cool mayfly none the less. So for my bug geek friends I'm looking for the correct scientific name of this beauty. Genus, specie, sex and stage gets you the title of "Bug Geek of the Week". Give it your worst!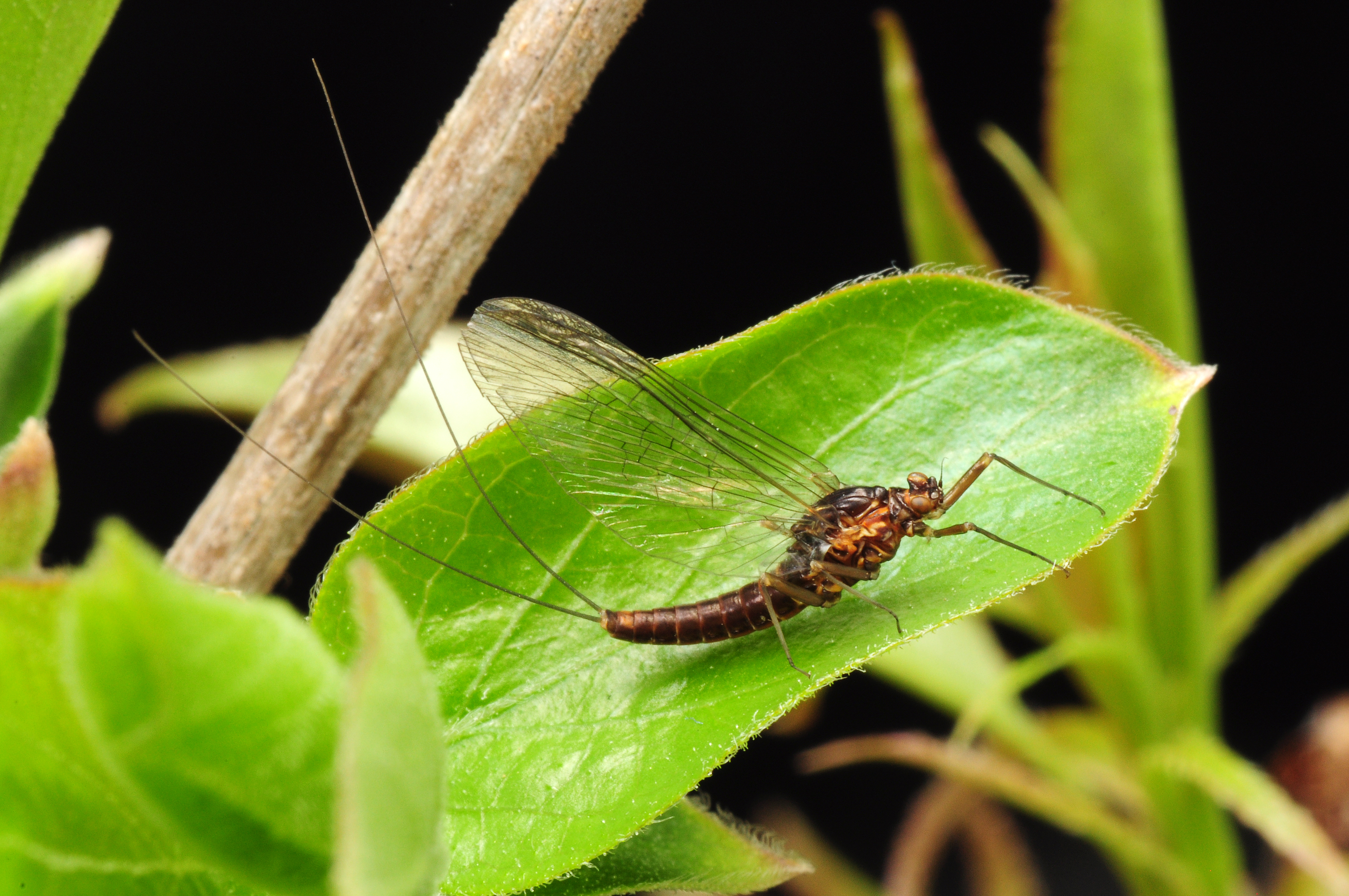 Hendricksons.......

April 27,2015


Ephemerella subvaria or the "Hendrickson" is one of my favorite hatches here in the east. My first trout on a Hendrickson imitation happened 35 years ago on Kettle Creek in north-central Pennsylvania a few miles upstream from the little town of Cross Fork, and there's been a few more in the years in between. The one pictured here is a male dun I photographed on the Manatawny Creek in southeastern Pennsylvania. A very cool hatch here in the east, and one that's given me a few great memories over the years. Yesterday was a good hatch of them on the Manatawny which gave me first fish of the year on a dry fly and a CDC Thorax Dun tied to imitate the female was just what the trout wanted.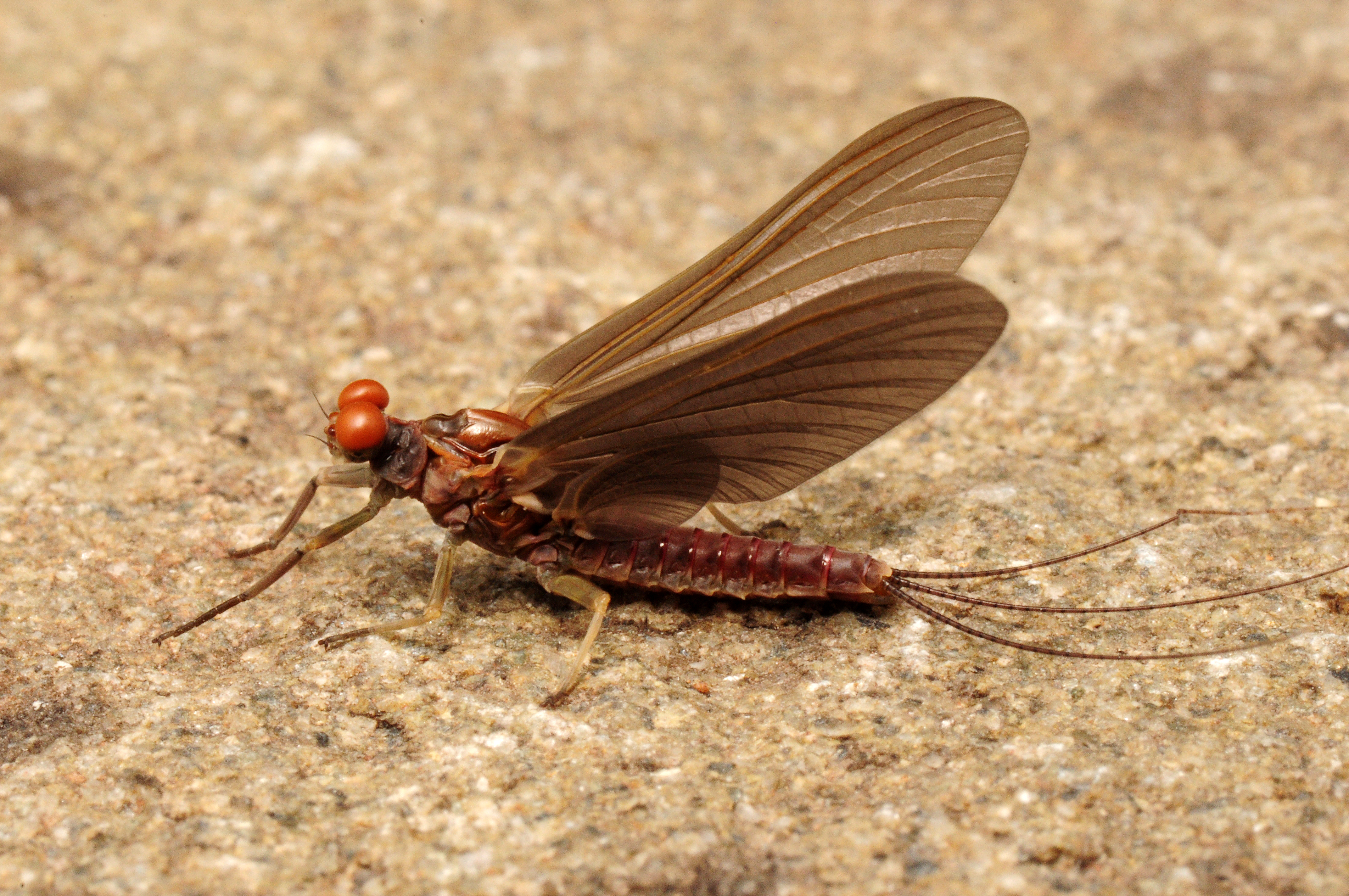 Secret Streams.......

May 04, 2015


This past Friday I had the opportunity to fish a remarkable stream; one that for the most part is unknown or at the very least miss-understood. Imagine a stream that is not classified as a trout stream but has a healthy population of wild browns; that has a great population of insect life and for the best part of all, sees no stockings of hatchery fish or the hoards of bait and spin fisherman that hatchery fish bring along. After spending a day on this stream I'm a believer that yes; secret streams still exist, and this is one of those. Eric Richard and I spent the day fishing several sections of this stream and had a great time fishing in solitude over wild rising fish in a beautiful setting that is exactly the way God intended all along. Want to see it for yourself? Contact Erich thru his website www.CovetedWaters.com and book a day with him. You won't go away disappointed with what you experience, and will know that you have seen a very special place.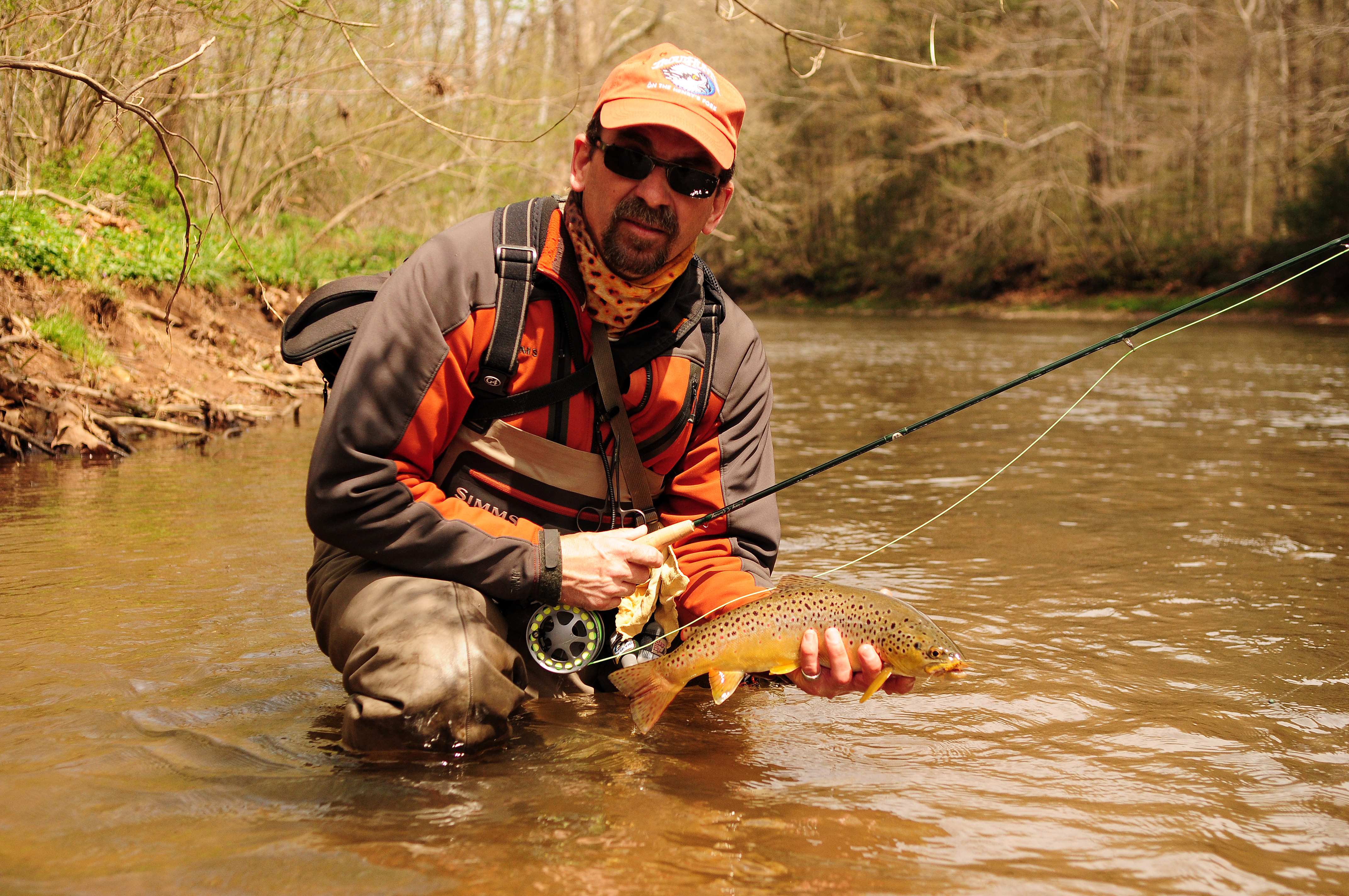 The Buttonwood Pool.......

May 11, 2015


In his classic book "A River for Christmas" Ernest Schwiebert immortalized his favorite pool on the Henryville Fly Fishers Club water in a story titled "The Spider at Buttonwood Pool". As a lifetime Schwiebert fan it has been an incredible experience for me to get to fish at Henryville on a stream that Ernie loved and wrote about prolifically, poetically and beautifully. Last weekend I had the chance to fish the Henryville water again with my friend Peter Leibundgut, and had the chance to fish the Buttonwood Pool. I watched a good fish rise several times along the near side edge near at the head of the pool during a hatch of Blue Quills. The first cast wasn't quite on target, but recieved a swirl as it drifted past the trout's position. After a brief pause, a second cast fell on target and produced a solid take on a nymph pattern fished dry-dropper. A few minutes later a beautiful brown lay in my net; and while it was far from the best trout of my life, I felt like I had fished the Buttonwood in the shadow of a legend. Thanks Ernie .............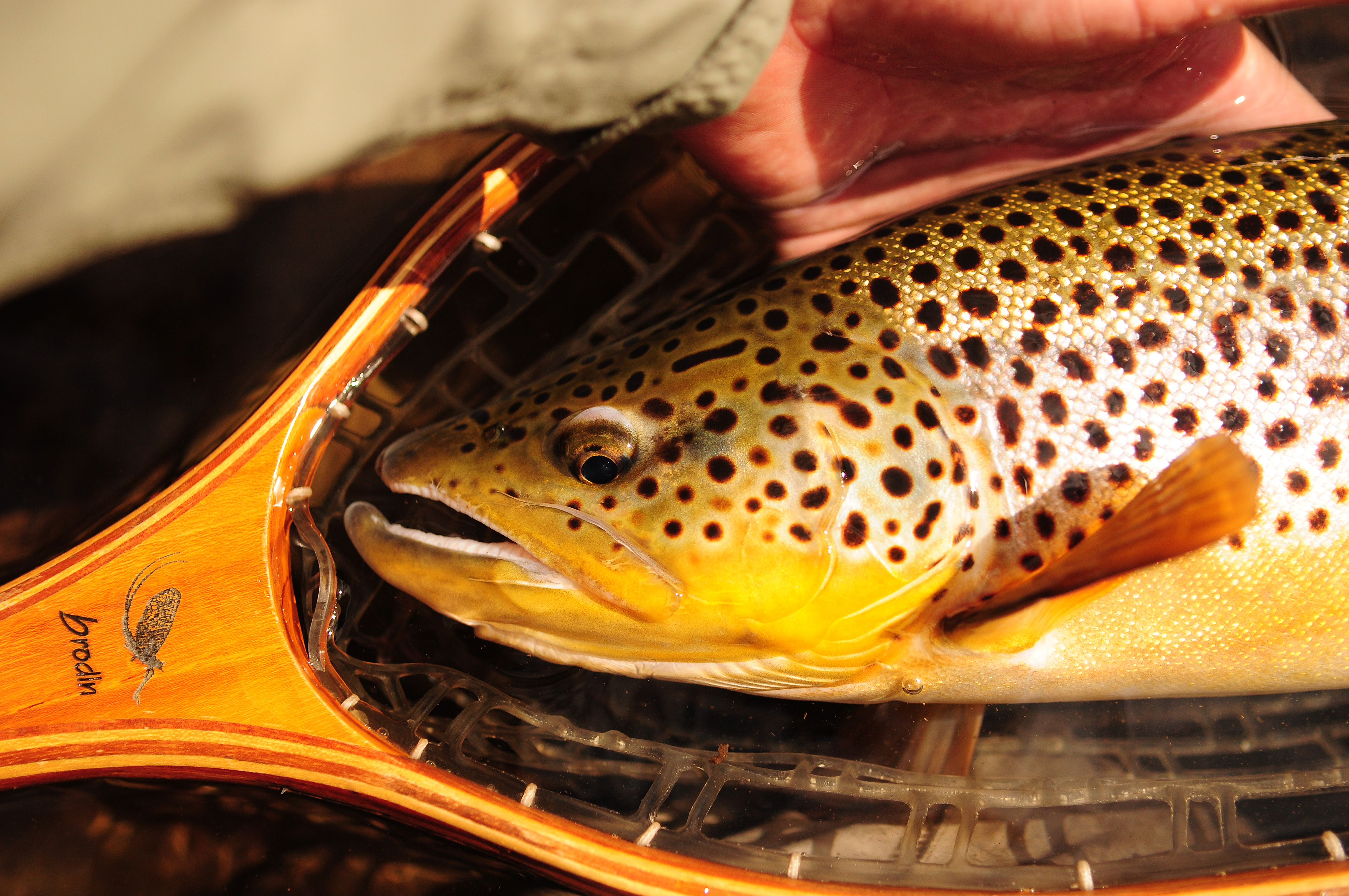 Good People....... May 18, 2015
I spent last Friday fishing with guide Eric Richard who operates a guide service in central Pennsylvania. We enjoyed a really great day on a truly beautiful stream. While I usually fish alone most of the time, I enjoy fishing with friends and am fortunate to put this guy in that category. Eric is an accomplished caster, fly tier and angler who brings a high level of intensity to the game and truly loves the sport and the waters he fishes. He operates a guide service www.CovetedWaters.com and for an angler looking for some new water to fish or some help with your casting skill I would recommend booking a day with him. A picture this week of Eric working one of his favorite streams.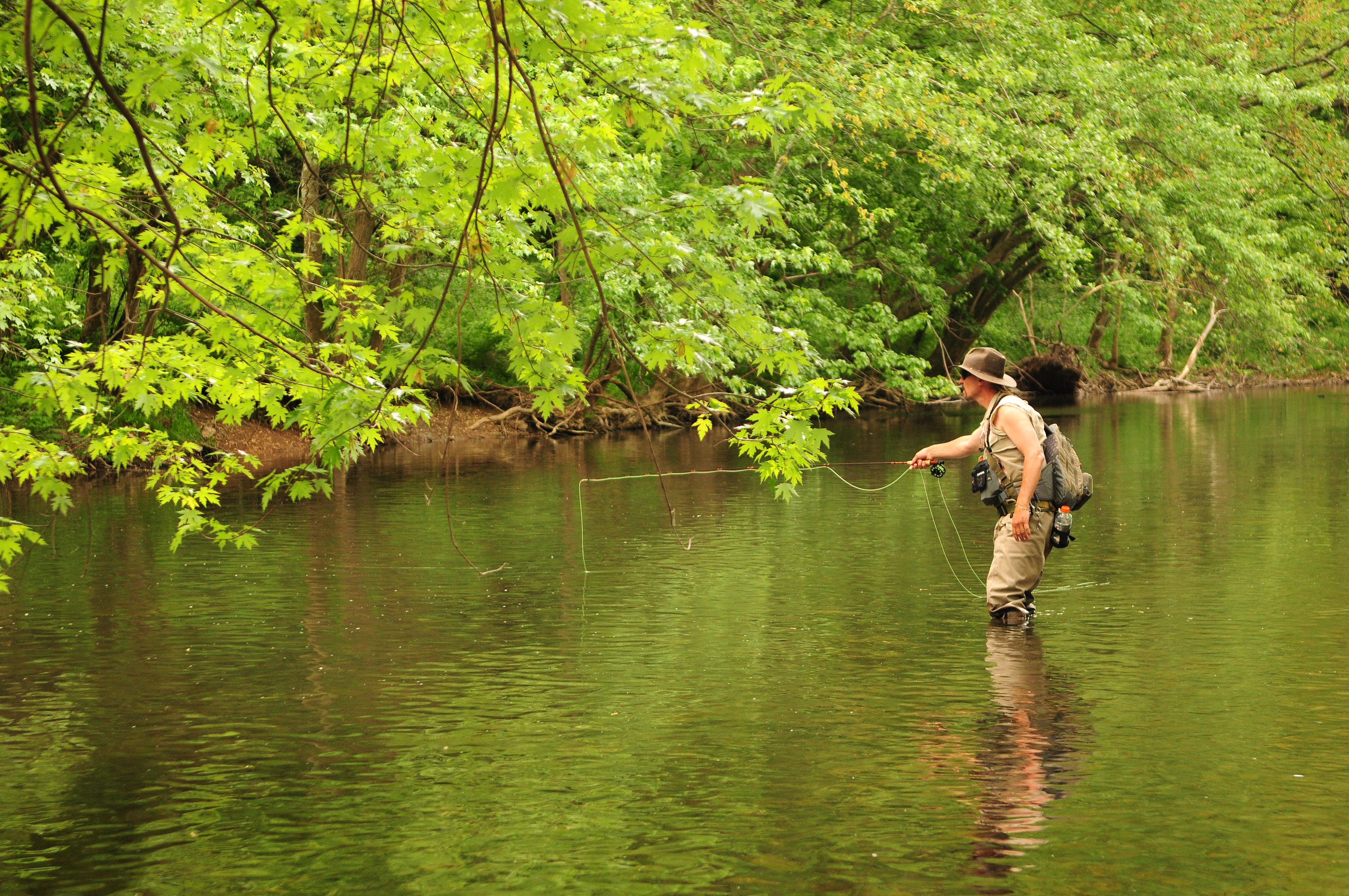 Natives ....... May 26, 2015
At the end of the dirt road that wound it's course down into a tight valley in the woods was a small cabin. An old man emerged from within who looked like he was a part of the woods himself. "You won't find anything in there but natives" he said. It was a small ribbon of ice cold water twisting through a dark forest, and from the depths of it's pools came brightly speckled fish that gleamed like jewelry in our hands. From the branches that overhung the currents were bright green inchworms hanging from fine silk threads, and in the currents below, trout that waited for them to drop. Some ate an inchworm pattern dropper, while others took a bright Ausable Wulff on the surface. For two men that spent their boyhoods chasing these fish in the headwater streams of Pennsylvania, it was indeed a great day.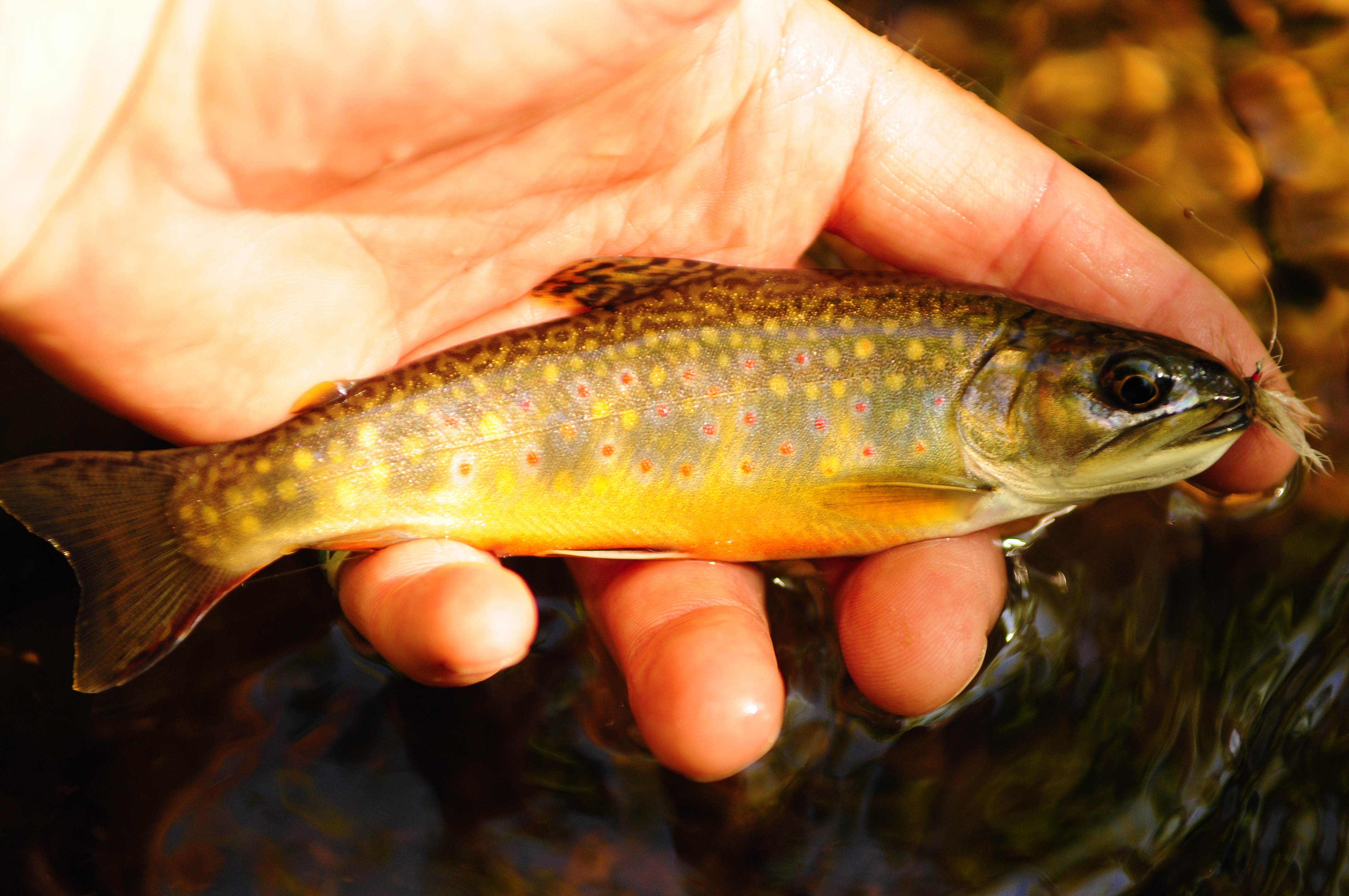 Sulphurs .......

June 1, 2015


In Pennsylvania we are blessed with a number of mayfly hatches and I certainly enjoy all of them, but by far this one is my favorite. The Sulphurs of Ephemerella invaria and E. dorothea dorothea are remarkable insects and most streams, even those that are less than pristine often have good hatches of them. Some of our tailwaters have extended hatches that can provide months of good fishing and I'm always amazed by the variation of color that they can be found in. Pictured here is a male dorothea dun I photographed on Hay creek; a small freestone stream close to home.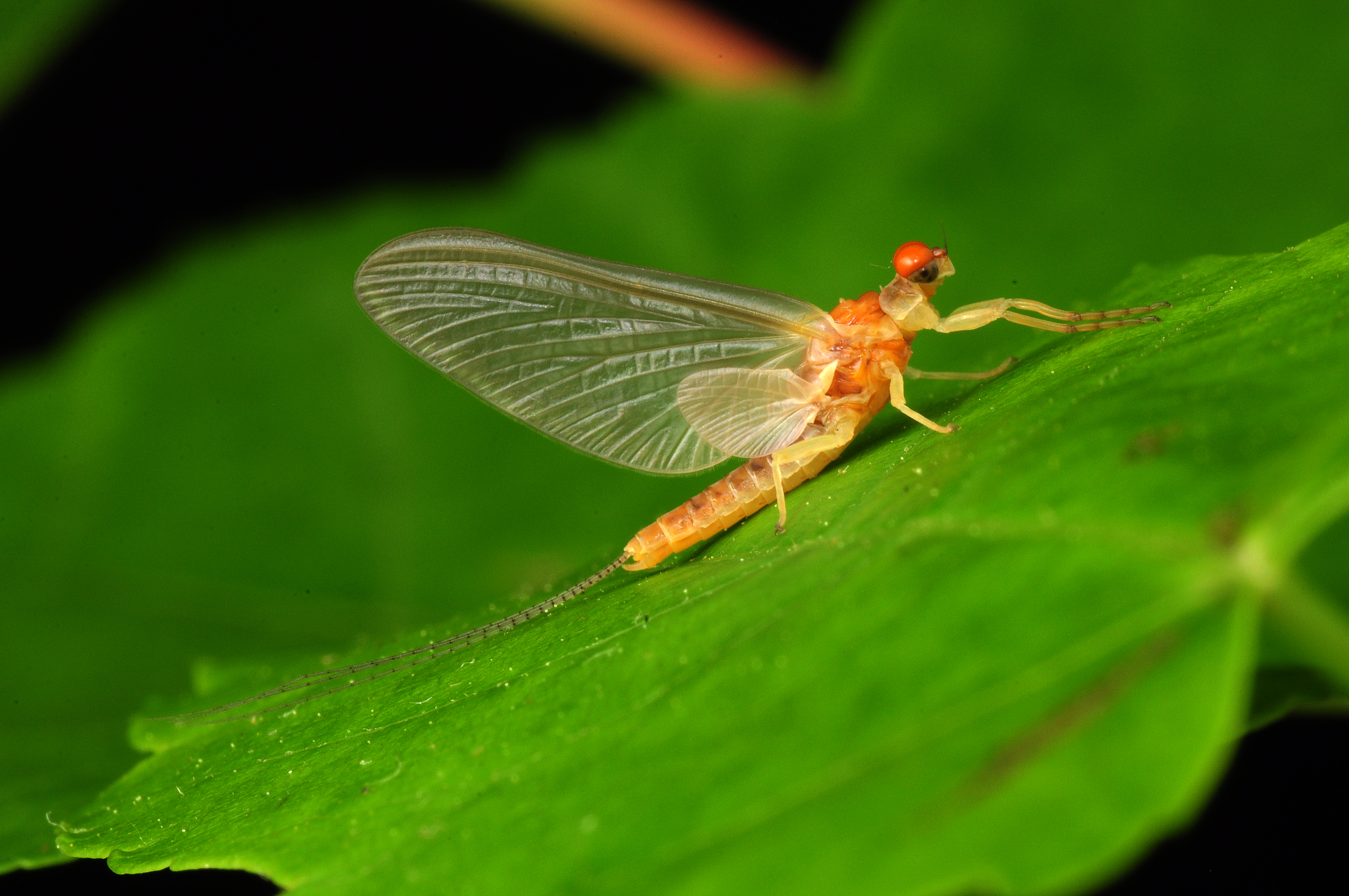 Lime Sallies.......

June 8, 2015


I saw my first hatch of Yellow Sallies (Isoperla bilineata) around 1977 on Kettle Creek in north-central Pennsylvania and have enjoyed many days of great fishing whenever I find them on the water. Another cousin specie "Alloperla imbecilla" or the "Lime Sally" often hatches at the same time on many streams here in the east and is nearly identical in size and behavior. While I find trout to be very fond of the under appreciated Yellow Sally; and I've caught many fish on my "Little Yellow Stonefly", I've never had much success fishing the same pattern tied to match the lime colored counterpart. While the trout in my experience don't seem to favor these, it is a very cool insect just the same.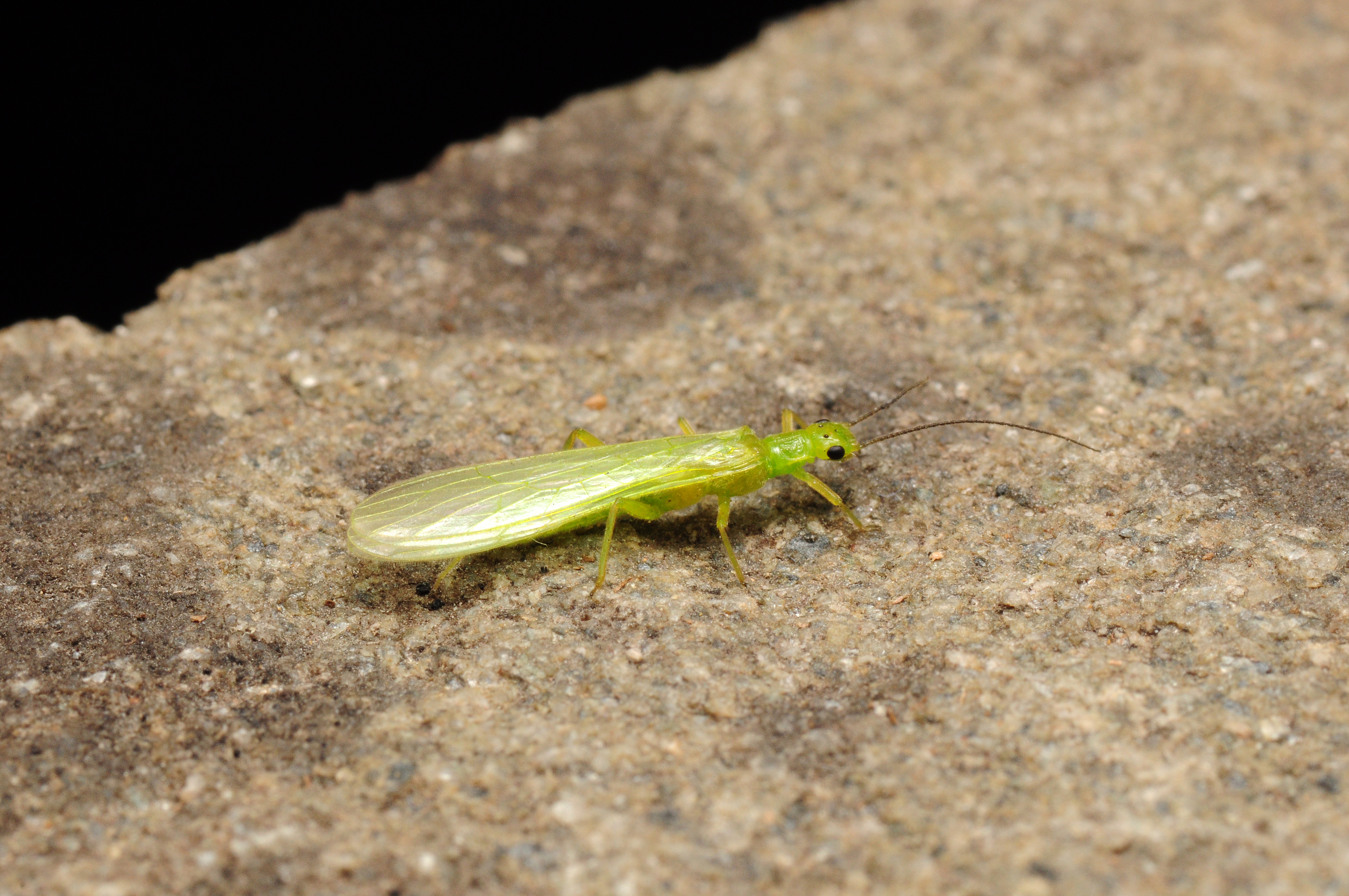 Gotcha.... finally .......

June 15, 2015


​ I was talking to a friend recently about my collection of aquatic insect images; and while I didn't realize how many there are, I did know that this particular bug wasn't represented. It seems like bad timing on my part and a lack of good habitat in the streams that I fish the most, but finally I can scratch this one off of the bucket list. This week's bug is the "Golden Drake" or Anthopotamus distinctus, in a female spinner. A very cool bug! Now I need to capture a dun .............................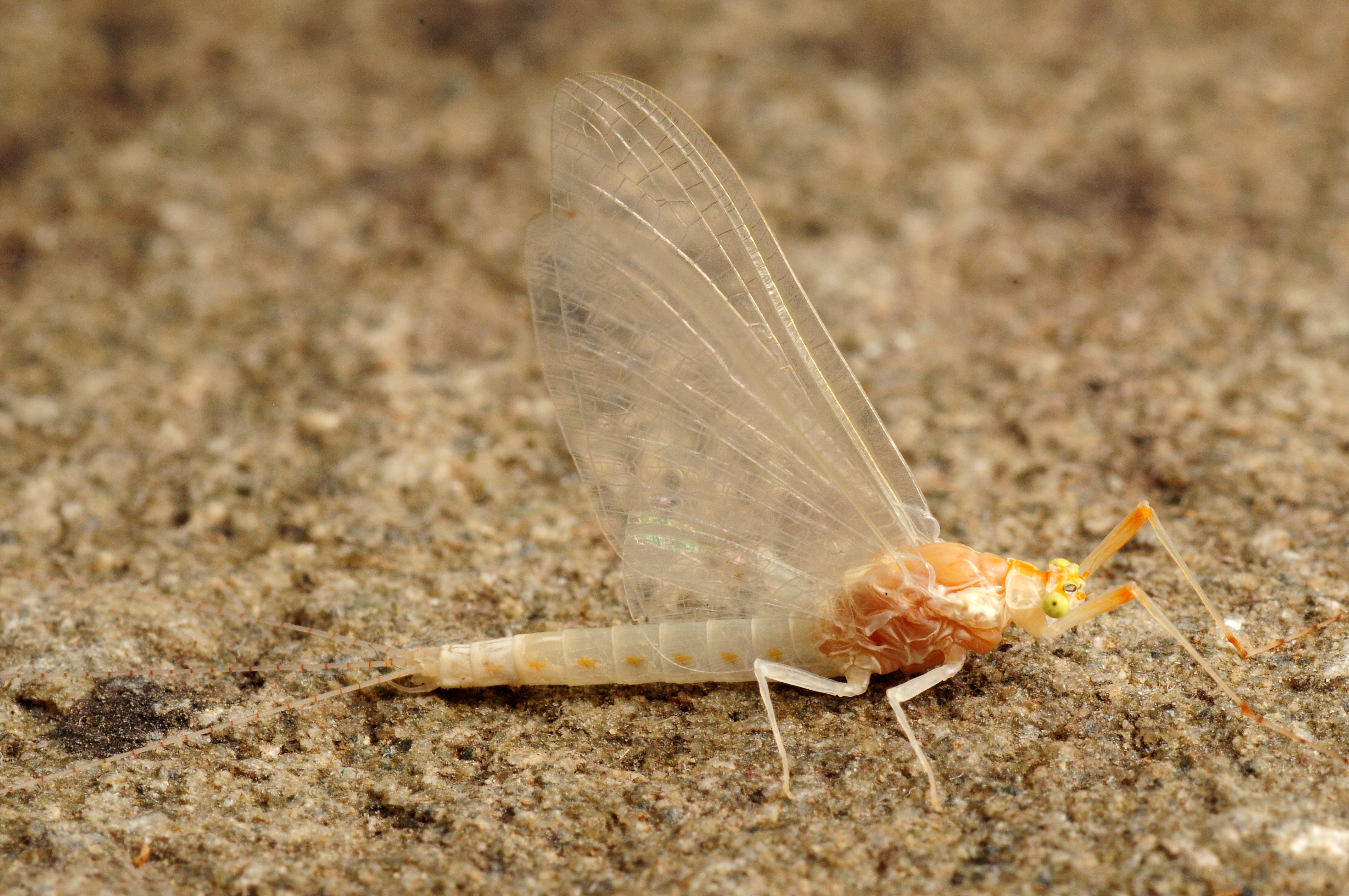 Cahill Spinners ....... June 22, 2015
Another mayfly spinner image this week; this time MacCaffertium mediopunctatum, more commonly known as the Light Cahill and to some anglers the "Jenny Spinner". Pictured here is the male spinner. A large mayfly that often is a size #12 or 14 and can usually be found in mating swarms over the riffles and pocket waters before dropping to the waters surface on most of our eastern streams. A good imitation to try is my Cream DNA Spinner, and the tying sequence and pattern recipe is found in Chapter 2 of "Matching Major Eastern Hatches". Be sure to tie a few and give them a try, you won't be disappointed!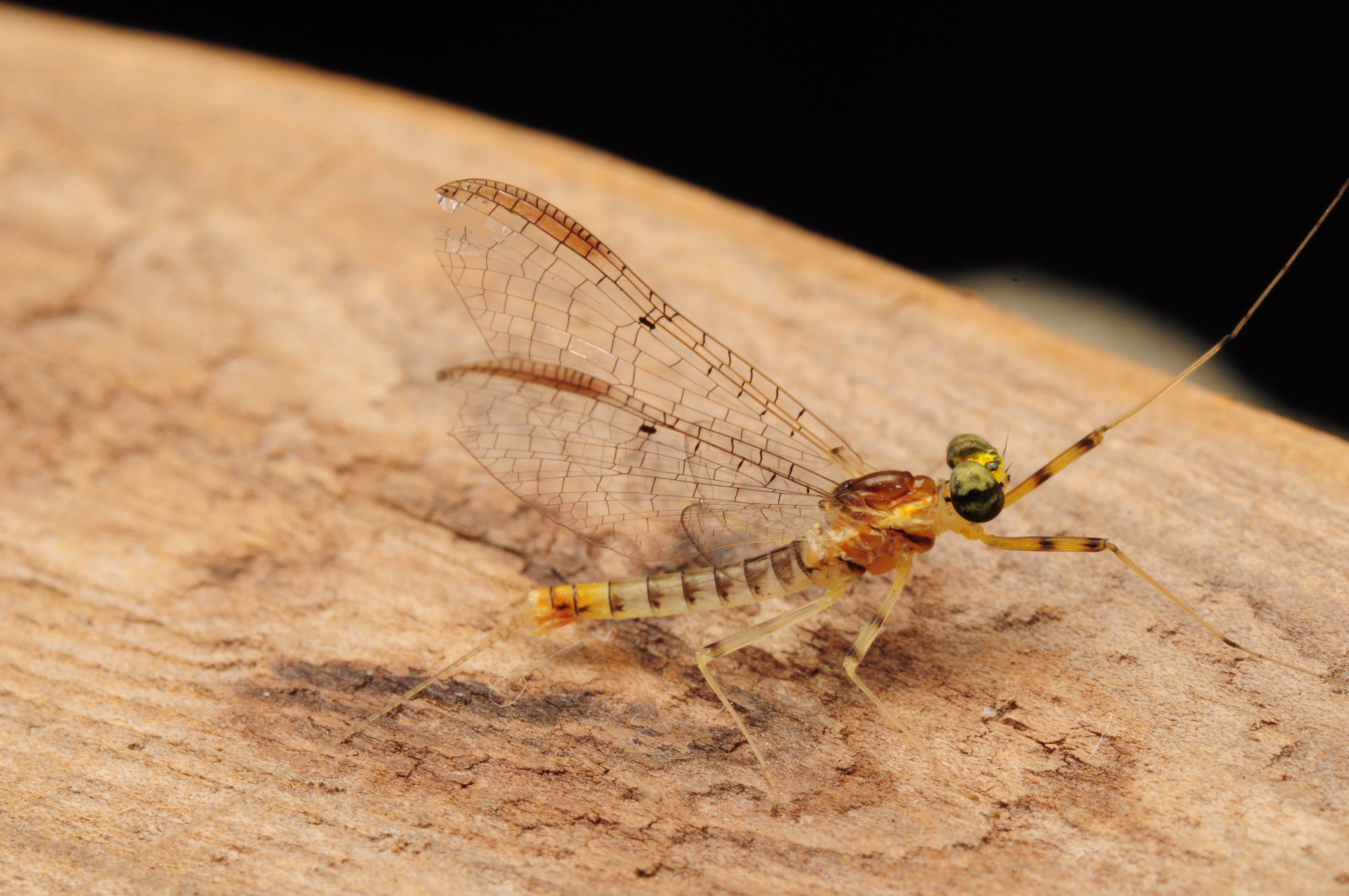 Best Friends .......

June 29, 2015


Nearly two years ago one of my best friends moved half way across the country. While he still lived in Pennsylvania we fished together as much as possible and there's been a lot of great memories made along the way. He's probably the best fisherman I know and has an uncanny knack of cracking the code on the stream. Off the water, he's just one of the most artistic and down to earth people I know...... just good people. After two years in the west Gavin "G3" Robinson came back to Pennsylvania for a visit and we got spend a day fishing together. A picture this week of him teaching another fish a lesson in life with Jimmy Lewis assisting on the net. I hope we don't have to wait another two years to fish together again ......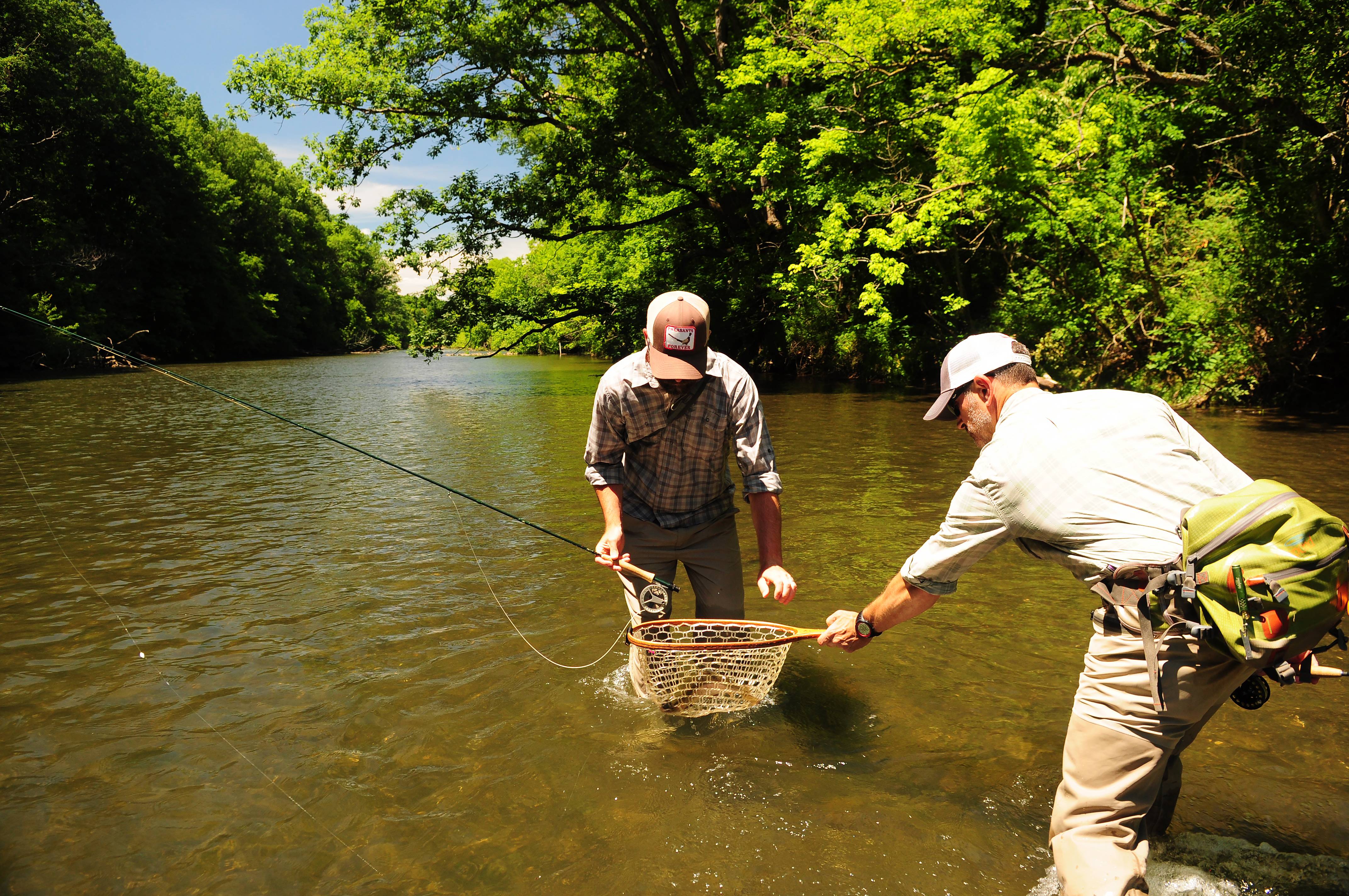 Headwaters .......

July 06, 2015


I spent part of a day this past weekend with Eric Richard on a very small head water stream. One of the toughest challenges on a tiny stream is getting a fly on the water with very little or no room to cast. Although it can be tough fishing, the results are worth the effort. Eric has an interesting variation on the "Bow and Arrow" cast which doesn't require putting any bend in the rod and gives better accuracy which is critical on these types of streams. After watching him use this cast very successfully there's some practicing going on here to practice this technique. I learn something from everyone I get to fish with and this is a great cast for confined spaces. Thanks Eric!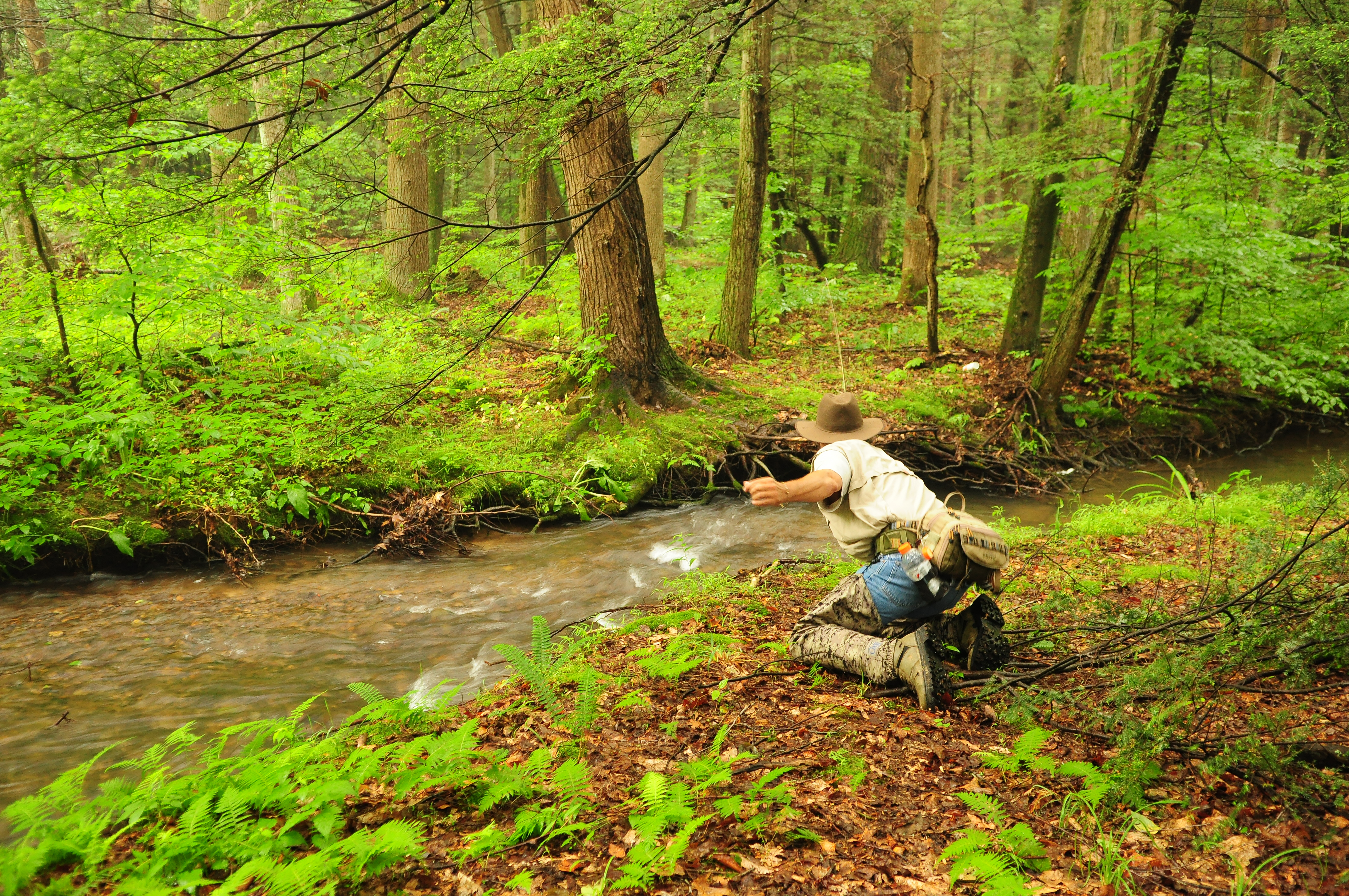 Summer Bugs .......

July 13, 2015


I really have a fondness for this mayfly hatch and can still remember the first time I fished a hatch of them as a teenager on the Little Pine creek in north-central Pennsylvania. Isonychia bicolor is a mayfly that goes by a number of nicknames including "Dun Variant", "Slate Drake" and the "White Gloved Howdy". Whatever you call them, the trout call them an opportunity and fishing an imitation; even randomly covering the water, can bring some exciting and enthusiastic rises. The Iso is a big enough bug to get the attention of the bigger fish in streams that have good hatches. Picture here is a female spinner photographed on a small stream near my home.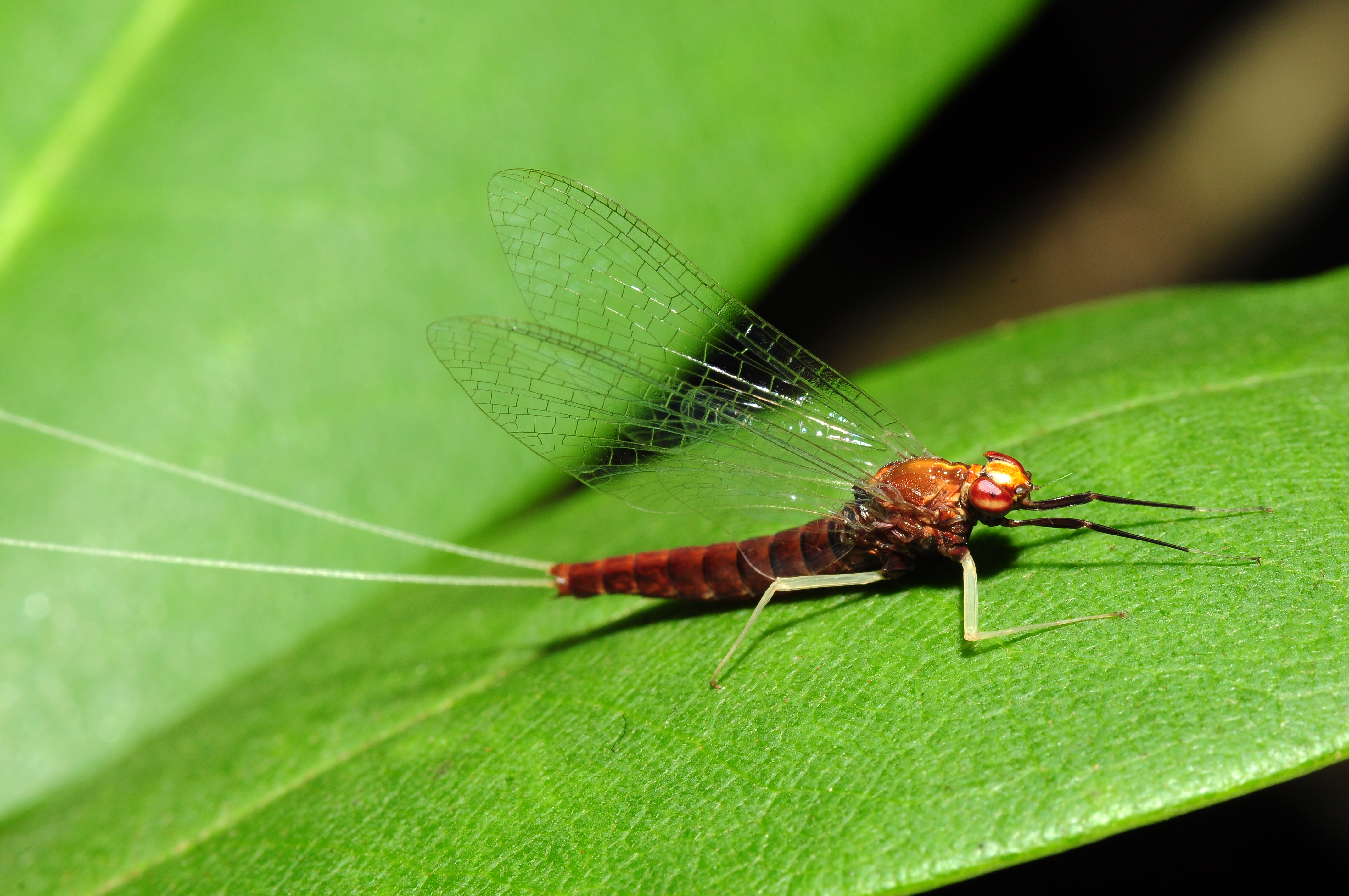 Something Old, Something New .......

July 21, 2015


Small streams have always held a very special place for me, and there's something remarkable about mountain streams that provide an escape from crowds of anglers and a busy life along with an opportunity to fish for wild fish. Small streams require shorter rods that can deliver a fly into tight places quietly and accurately. A few weeks ago I found a friend offering this rod for sale and needless to say I found probably the best small stream rod I've ever cast. The Hardy "C.C. DeFrance" taper was developed by J.J. Hardy in 1910 and won the accuracy competition at the Casting Club DeFrance. At 6' 10" the length is perfect for tight conditions and the taper is brisk and drops a dry fly accurately and quietly with a 5 weight line. Thank you to John Capowski for selling me the rod which is a very welcome new addition to my rod collection.
Good Flies ...... July 27, 2015
In the early 1980's Fran Betters published an article in Fly Fisherman magazine about this fly; the "Ausable Wulff" which he created for his home river, the Ausable in upstate New York's Adirondack Mountains. I tied a few and can honestly state that it's my "go to" fly for fast water streams. The white calf tail wings are easy to see on the water and the orange colored body looks like so many insects when viewed from the underside. Best of all it floats really well and has accounted for many fish for me over the years. If you enjoy fishing fast water streams you should consider adding some of these in sizes #12 to 16 in your fly boxes, you won't regret it!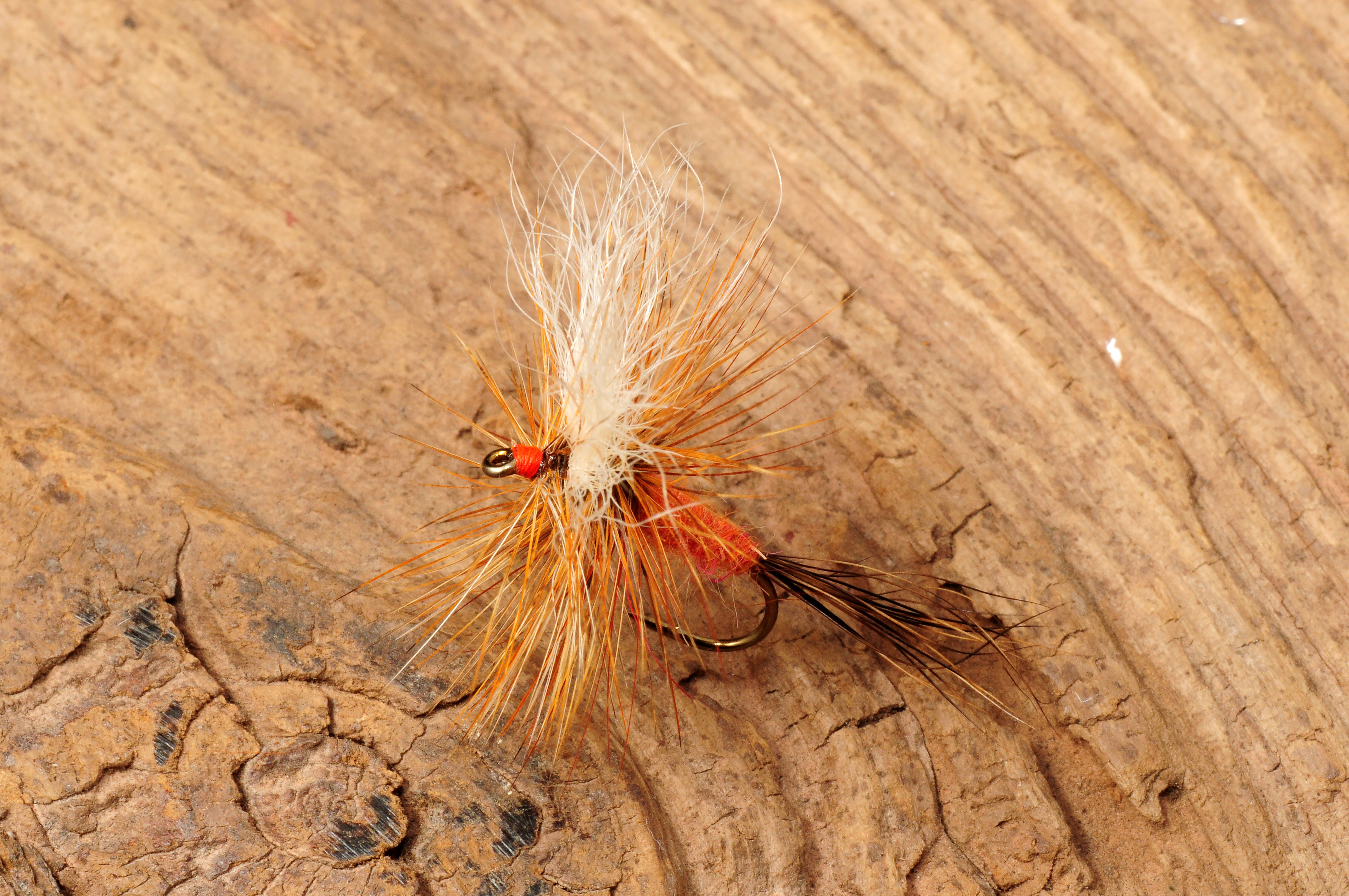 Small Streams ......

August 03, 2015


My experience in the fly fishing world started 40ish years ago on tiny mountain streams like this one pictured here. After most of a lifetime of fishing different places and different types of water, it still is one of my favorite experiences. Small streams and the native fish that live in them are usually remarkably beautiful and the lessons we learn there transfer well to other fishing opportunities. The small stream game is often a challenge of making a careful stalk into casting position, placing the fly on the water accurately and making that first cast on a pool count. I've spent a lot of time on little head water gems like this one and still enjoy the quiet, the tranquility and the wild trout these types of places provide. I never grow tired of it ...........
Guide Flies.....

August 10, 2015


What makes a fly a "Guide Fly"? Good question. A guide fly is usually something that is simple to tie and catches fish under a variety of conditions. They are often a minimal investment in time and material, and something that won't kill you when your client keeps losing them. "Pat's Rubberlegs" certainly fits all of those requirements. A good evening can usually spin out a seasons supply with only a few inexpensive materials and a few minutes invested. Call them simple, stupid, sexy or whatever you like, the darn things catch fish. While I like to tie more detailed flies to imitate a stonefly nymph; I won't cry if I snag one of these on the stream bed, and every year I manage to hook some really good fish with one of these on my leader. Never tried one? It's pretty simple to fix that .................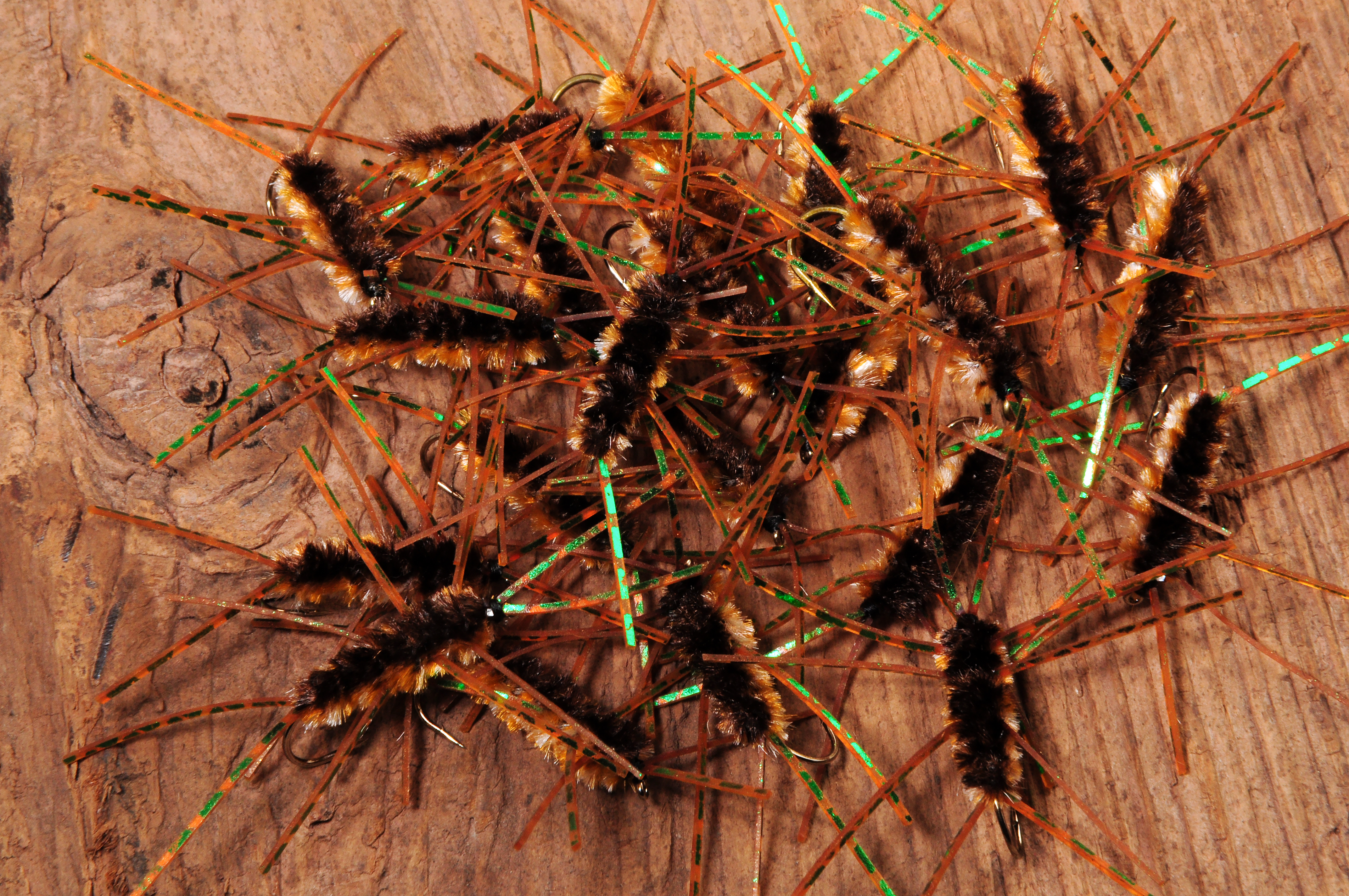 Beetles.....

August 17, 2015

Summertime fishing and terrestrial fly patterns go together like peas and carrots. While most of the time a parachute ant gets the nod when I fish the hot summer months, there's something to be said about beetle patterns. This weeks fly is my favorite beetle pattern which is based on Rene Harrop's CDC Beetle, which I really like because it land quietly on the water. While most writers talk about fishing pattern that lands hard and get a trouts attention; I prefer one that lands softly. This one is tied with several CDC feathers which are tip matched and tied in at the bend and pulled loosely over the body to form a bubble which gives it shape and helps it to trap air and float. The version here uses midge size Flashabou to imitate legs. This replaces CDC fibers and retain their shape nicely. Tie yourself an assortment of sizes from #16 to 20 and give them a shot. A very simple and effective pattern this time of year .........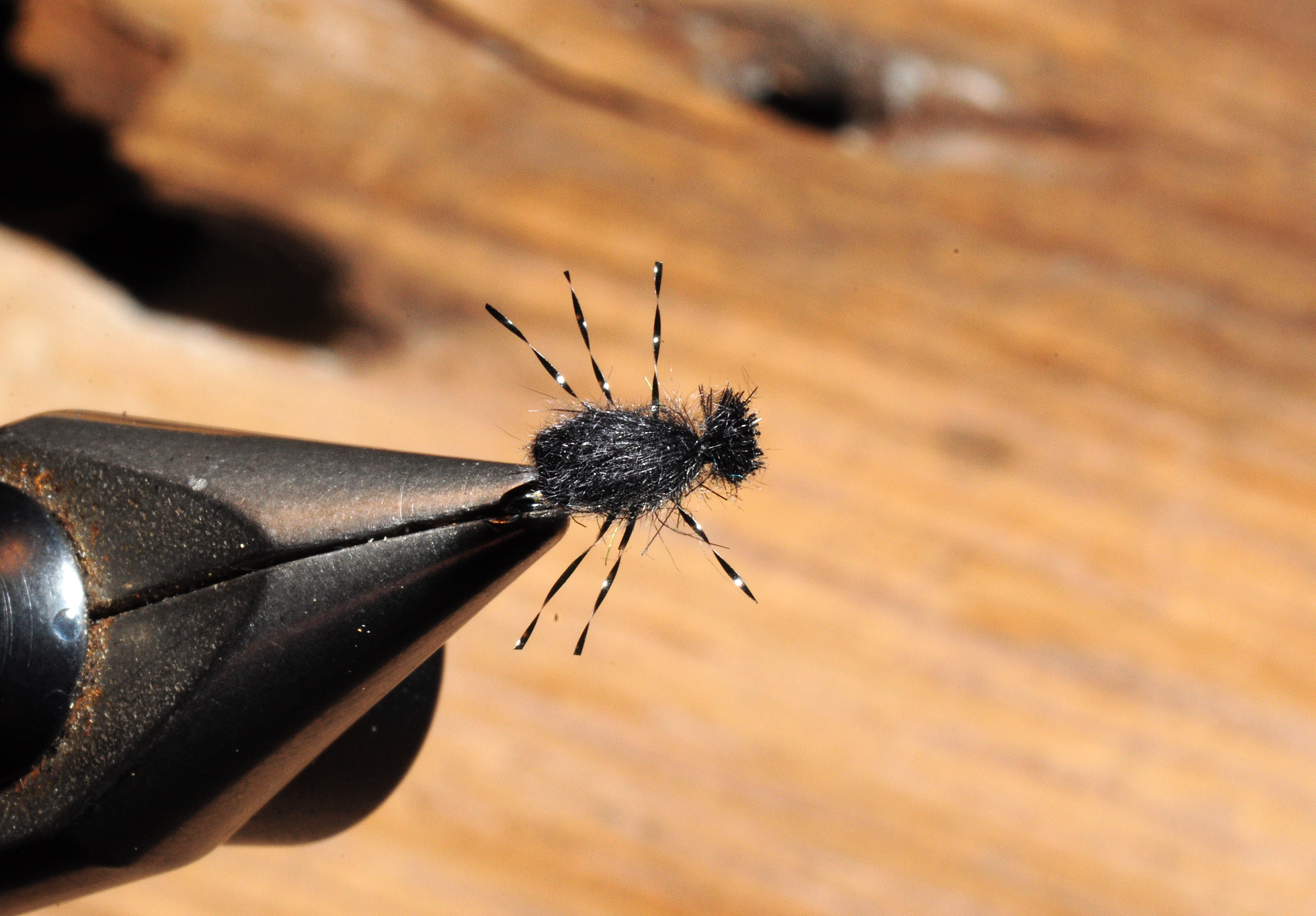 Headwater Stream Surprizes.....

August 24, 2015


Part of the love I have for small head water streams is the element of surprise I often find there. I usually expect that there will be small wild brown trout and on many of them beautifully colored brook trout, and I can often count on enjoying the experience in solitude. Most of the time the fish are proportionate to their environment and an 8 inch fish is a trophy. The surprises are often encounters with rattle snakes, bears, mink or other animals, but the best surprise of all are some of the trout we can often find. As summer temperature push trout to cooler water they often seek refuge in small head water streams and I'm sometimes treated to a better than average small stream fish. A pretty brown pictured here from a stream seldom wider than 8 feet and narrower in most sections. The rod I'm holding is an older Fenwick Ferralite fiberglass rod I got for Christmas 40 years ago, which is perfect for these kinds of places.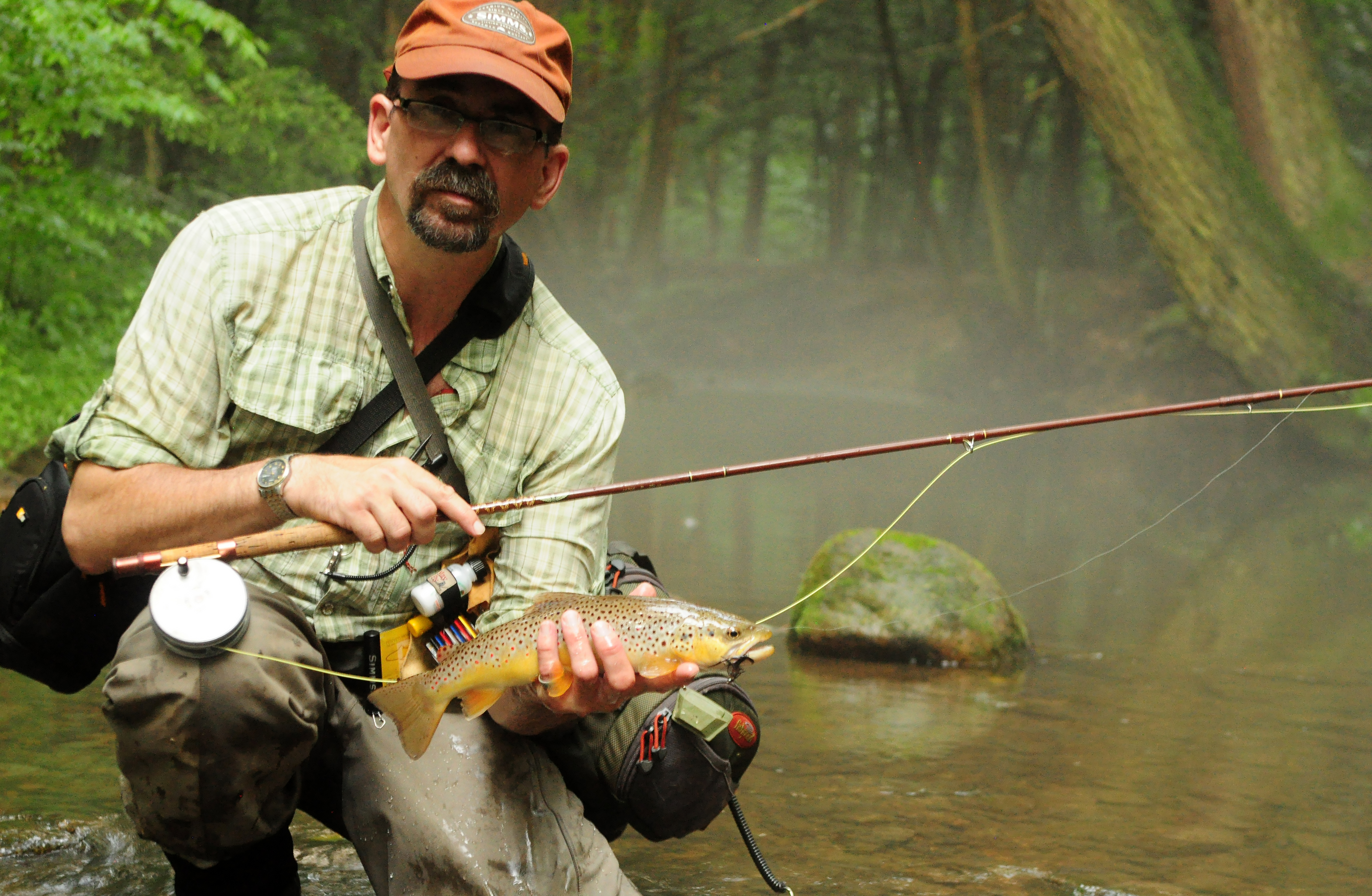 Classics.....

August 31, 2015


In 1938 Ray Bergman released a book that for many of us would serve as inspiration and instruction for the art of fly tying. His monumental work "Trout" contains hundreds of patterns like the "Bergman Fontinalis Fin" pictured here that represent for many of us the perfect blend of functionality and art designed to charm an even more beautiful wild trout. A few years ago I tied a set of classic patterns from Bergman for an old friend on antique Mustad Kinsey blind eye hooks and silkworm gut snells. Enjoy ....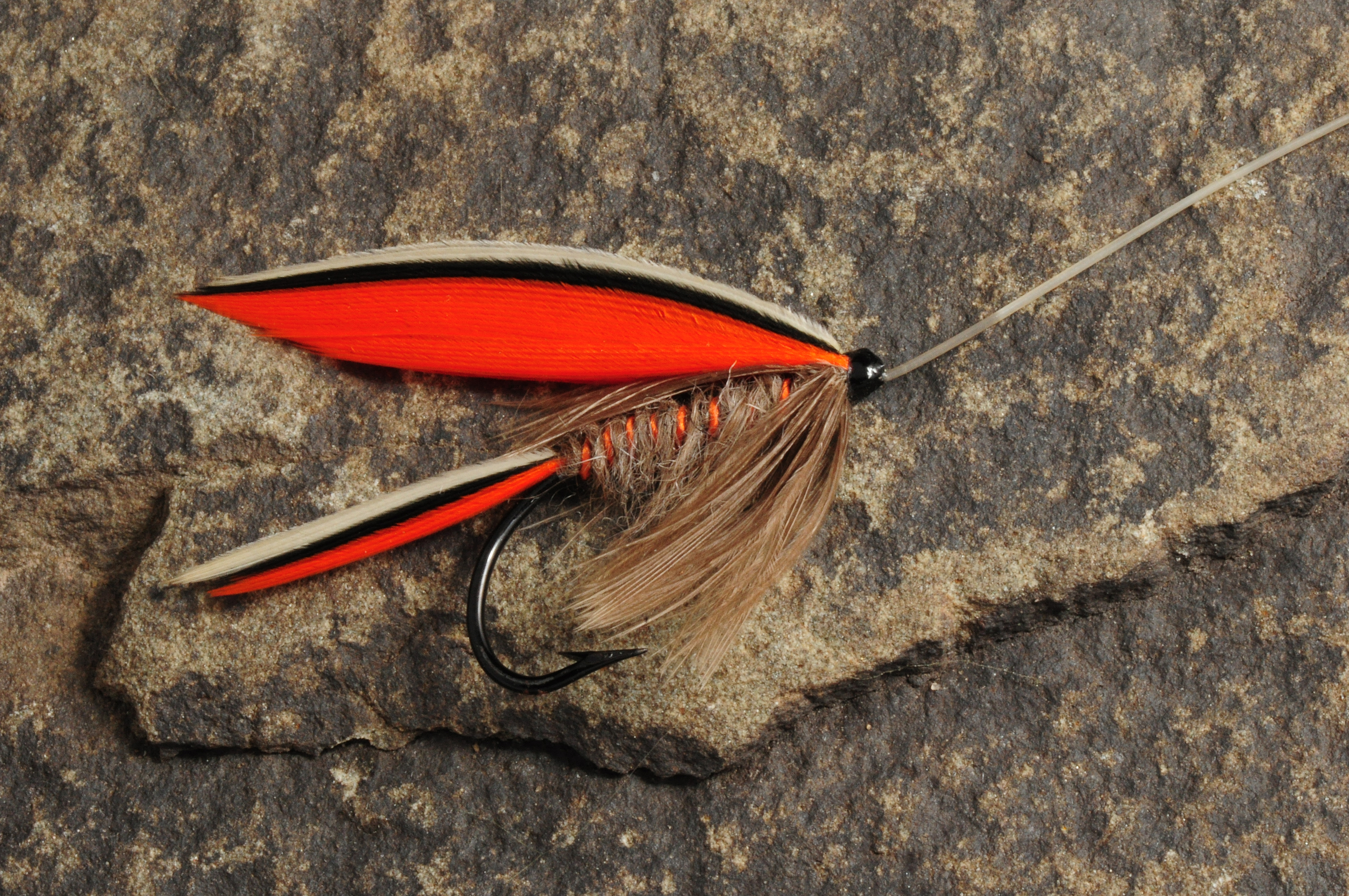 Take Me To Your Leader..... September 14, 2015
In the game of small stream fishing, an accurate cast and delivery of the fly is critical to success. Getting your fly into a narrow drift lane, under an overhanging branch or around a stream obstacle is all about an accurate cast. I've never been fond of "store bought" leaders and started making my own years ago when I first read Joe Humphreys "Trout Tactics" (Stackpole Books 1981). Learning to tie leaders to match my casting style and the streams I fish was a turning point for me. Here's a 7 1/2' 4X taper I really like for small, headwater streams. It has the power to deliver a fly in tight area, yet offers a good drag free drift: 12" of .020", 12" of .017", 12" of .015", 12" of .012", 6" of .010", 12" of .008" and 24" of .007" (4X). The tippet of choice is Trouthunter 4X Nylon, all other sections are made from Maxima Ultra Green. Tie a few up and give them a try!

First Fish.....

September 21, 2015


While the first fish I ever caught was a rainbow trout at the ripe age of five years old, there were many days and many years spent chasing these while I was growing up. For many these are the first fish pursued and caught, and are arguably the best specie to introduce a kid to the sport of fishing. They are usually more than willing, often beautifully marked and up to the task of amusing a first time angler. While they don't offer the challenge of matching hatches, careful approaches on spot on presentations that more "sophisticated" fish species do, they certainly provide a lot of fun and an opportunity for a beginning angler to learn and develop basic skills without exhausting their attention span or patience. Some days I find myself fishing for these and yes, I still find the kid in me enjoying it.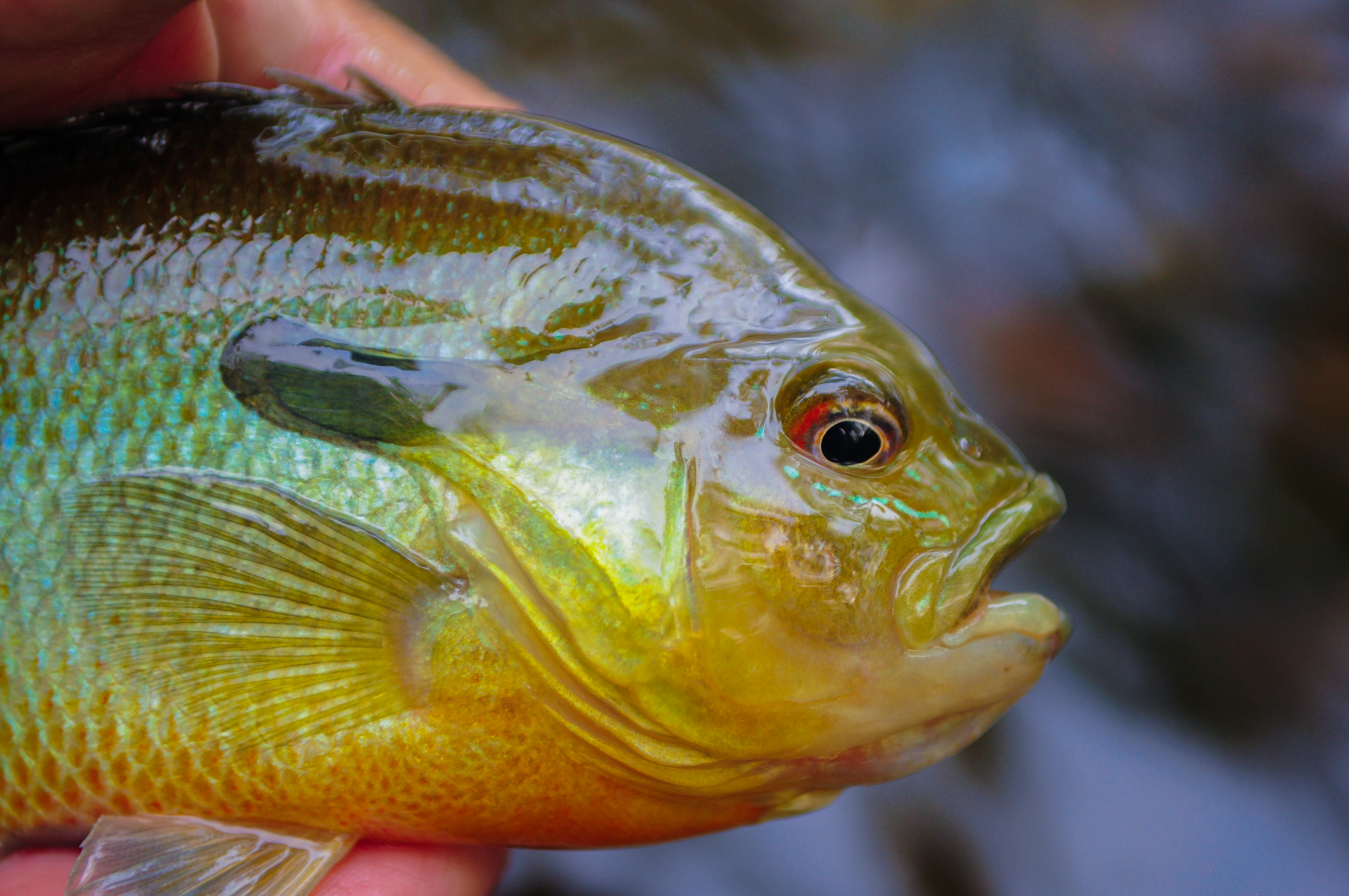 Terrestrials.....

October 05, 2015


This Thursday evening, October 8 I will be giving a presentation titled "Terrestrials, Patterns and Presentations" at the monthly meeting of the Hacklebarney Chapter of Trout Unlimited in Whippany, New Jersey. My talk will discuss the "Big Four" of land based insects that are important to trout and trout anglers. Hoppers, Crickets, Beetles and Ants, good imitations and strategies for fishing them will be covered. I'm looking forward to speaking to this group again; a really good group of anglers and conservationists!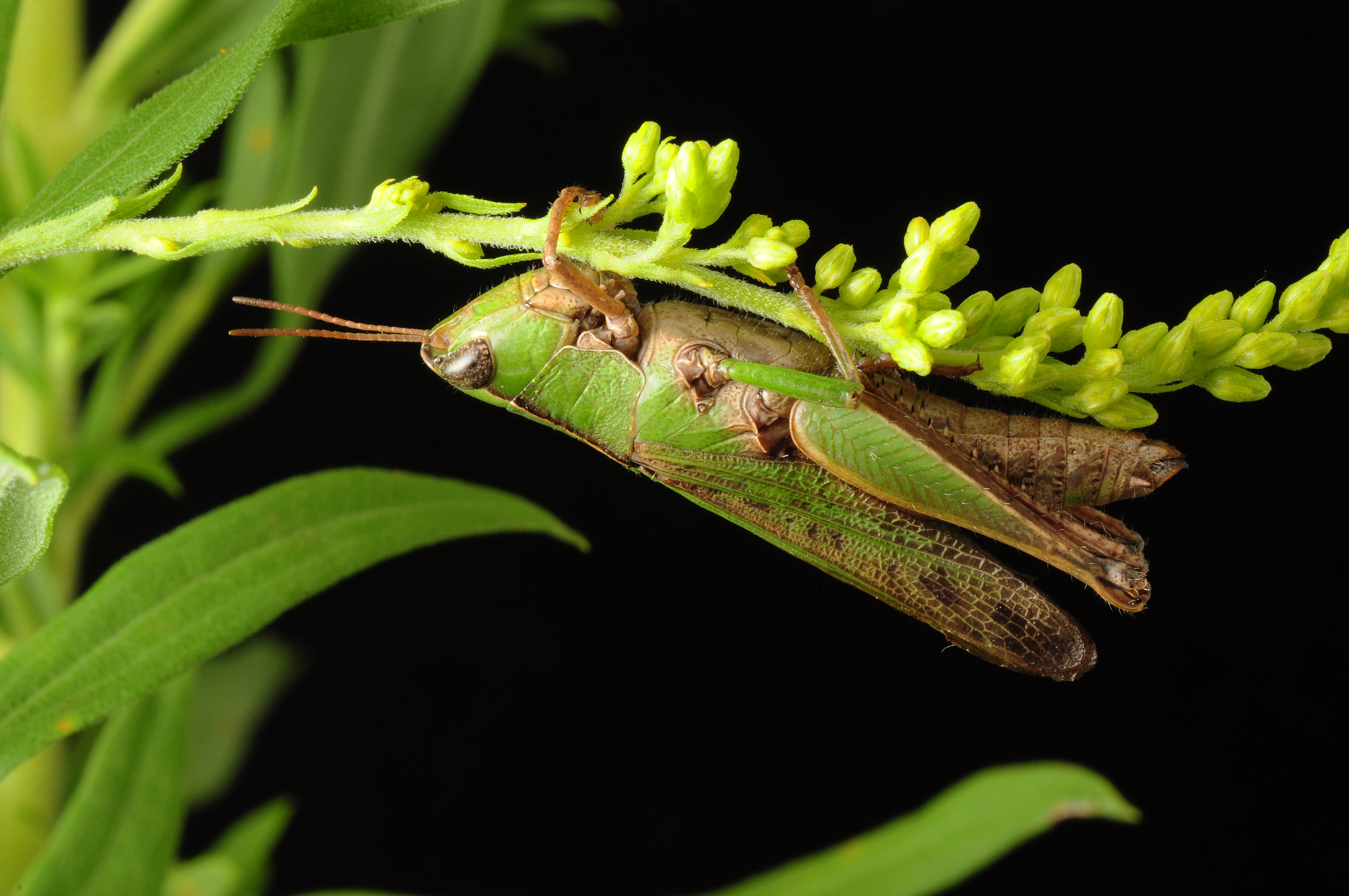 Blue Wing Olives.....

October 12, 2015


It's a beautiful time to be out on the water and there's still a chance to work on rising fish on streams that have populations of Baetis specie Blue Wing Olives. This week's pic is one of my favorite emerger patterns I call the "DOA Cripple Emerger", shown here in the Baetis Olive pattern. These are tied with a CDC down wing and a few CDC fibers for legs which move in the water and help provide the illusion of life. My favorite hook for these in the smaller size #18 to 22 flies is the Varivas #2200 Curved Shank hook. Tie up a few and give them a try; a very effective fly whenever you find rising fish.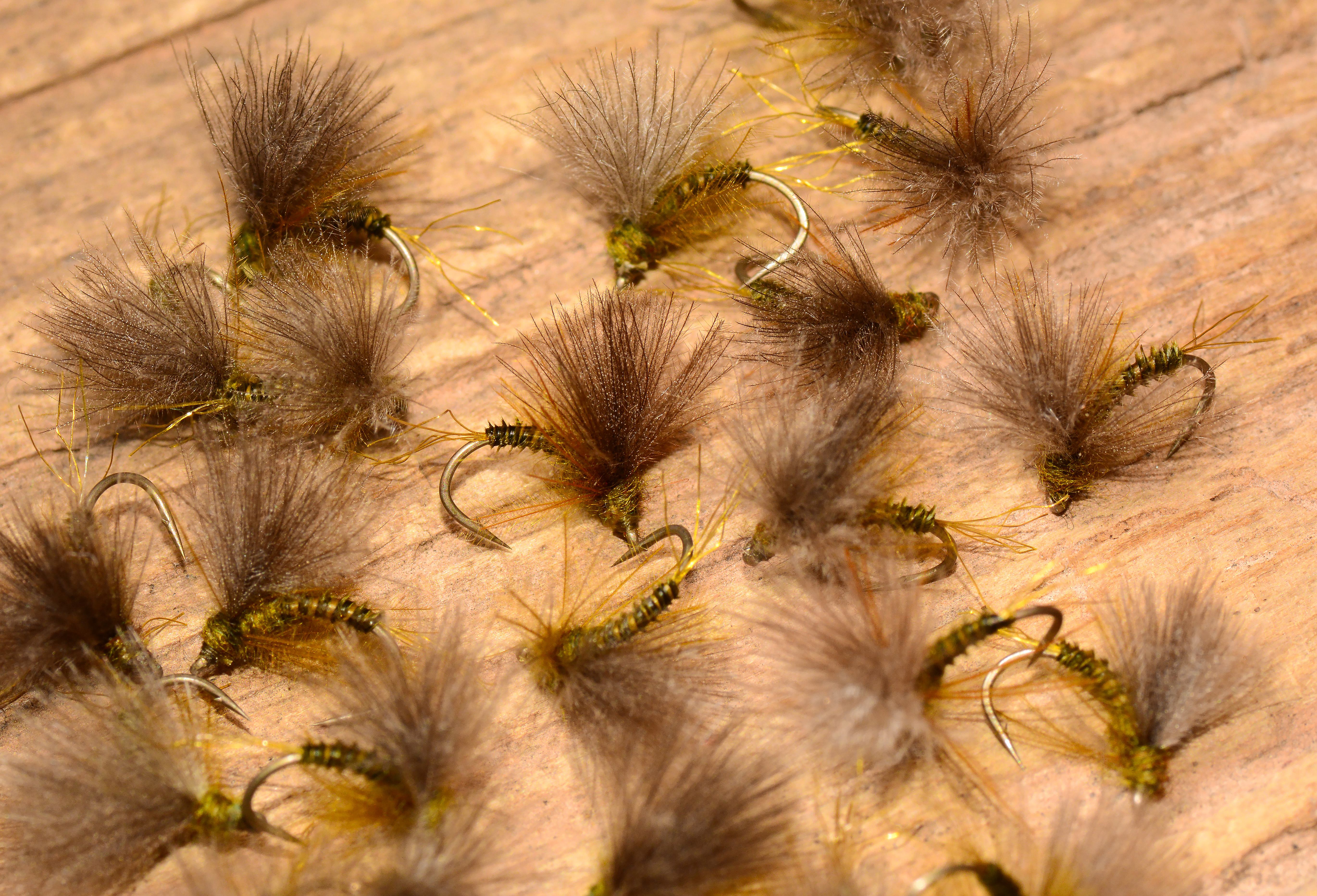 Presentations.....

October 19, 2015


Just in case you didn't know I really enjoy presenting the flies I design and tie to trout, and this week's image is from a really great day on the Little Juniata River in Spruce Creek Pennsylvania. It was one of those rainy, bone chilling early season days that keep a lot of fisherman indoors, but the Grannom caddis fishing was spectacular! I also really enjoy presenting programs at clubs and Trout Unlimited Chapter events. My schedule for 2016 is already filling up and if you are looking for a speaker for your next club event shoot me an email or phone call. I have a variety of slide shows and have very reasonable rates. I've presented at many shows in the eastern US, numerous TU Chapters, the Anglers Club of Philadelphia, the Harrisburg Fly Fishers, Main Line Fly Tyers, Delaware Valley Fly Fishers and others.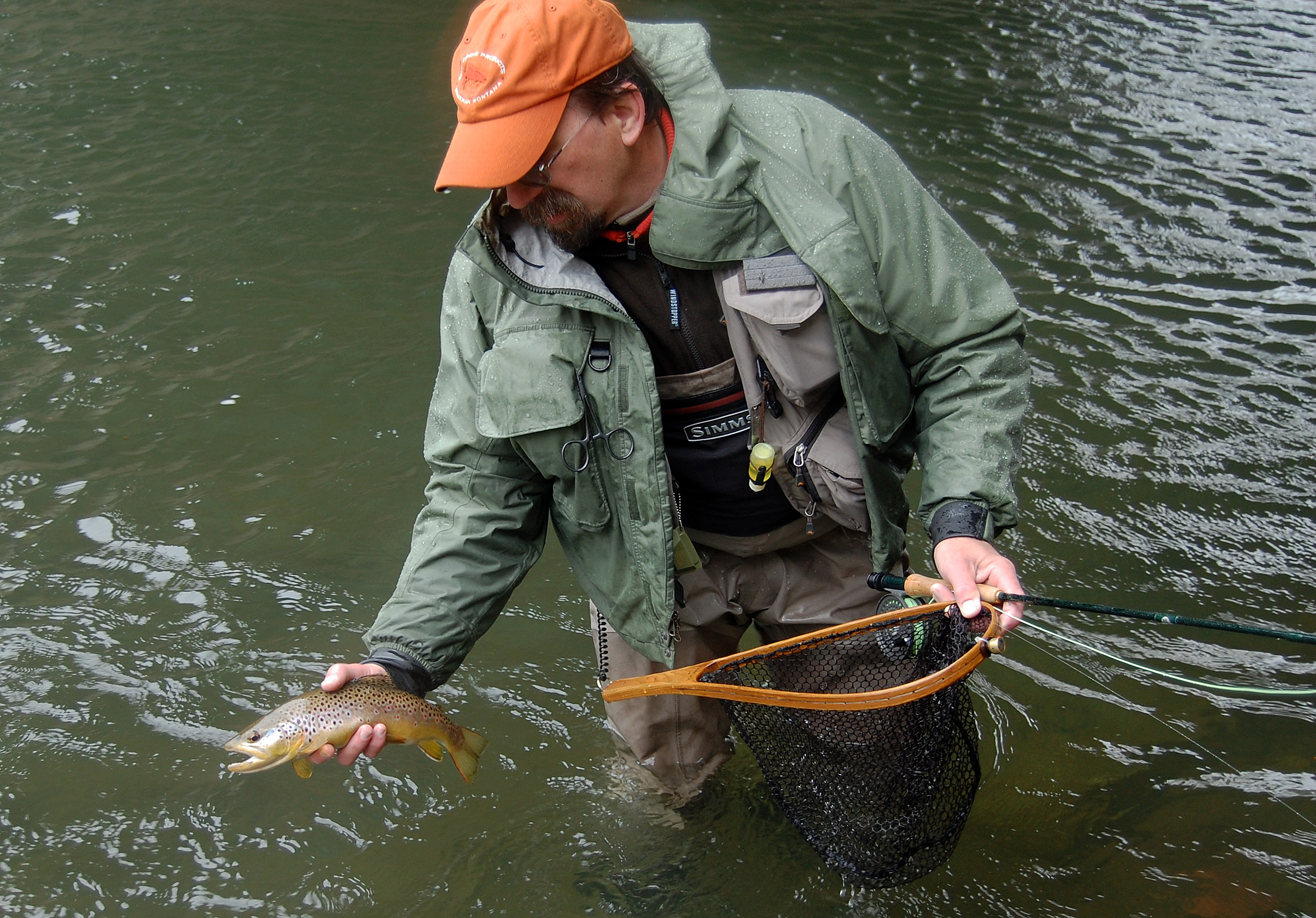 Some Days .....

October 26, 2015


This past Saturday was one of those really fun days. I had the chance to do a float trip on the Juniata River in central Pennsylvania with two very good guides; Brian Shumaker of Susquehanna River Guides and Eric Richard of Coveted Waters guide Services. These are both really great guides and more importantly really good people with a great knowledge of this special fishery. Pictured here is a good fish from that trip and my best smallmouth to date. As an old friend used to say "even a blind hog finds an acorn once in a while". A really nice bass that slammed a pearl gray Circus Peanut. If you are looking for a great day of bass fishing don't hesitate to contact either of them to book a trip.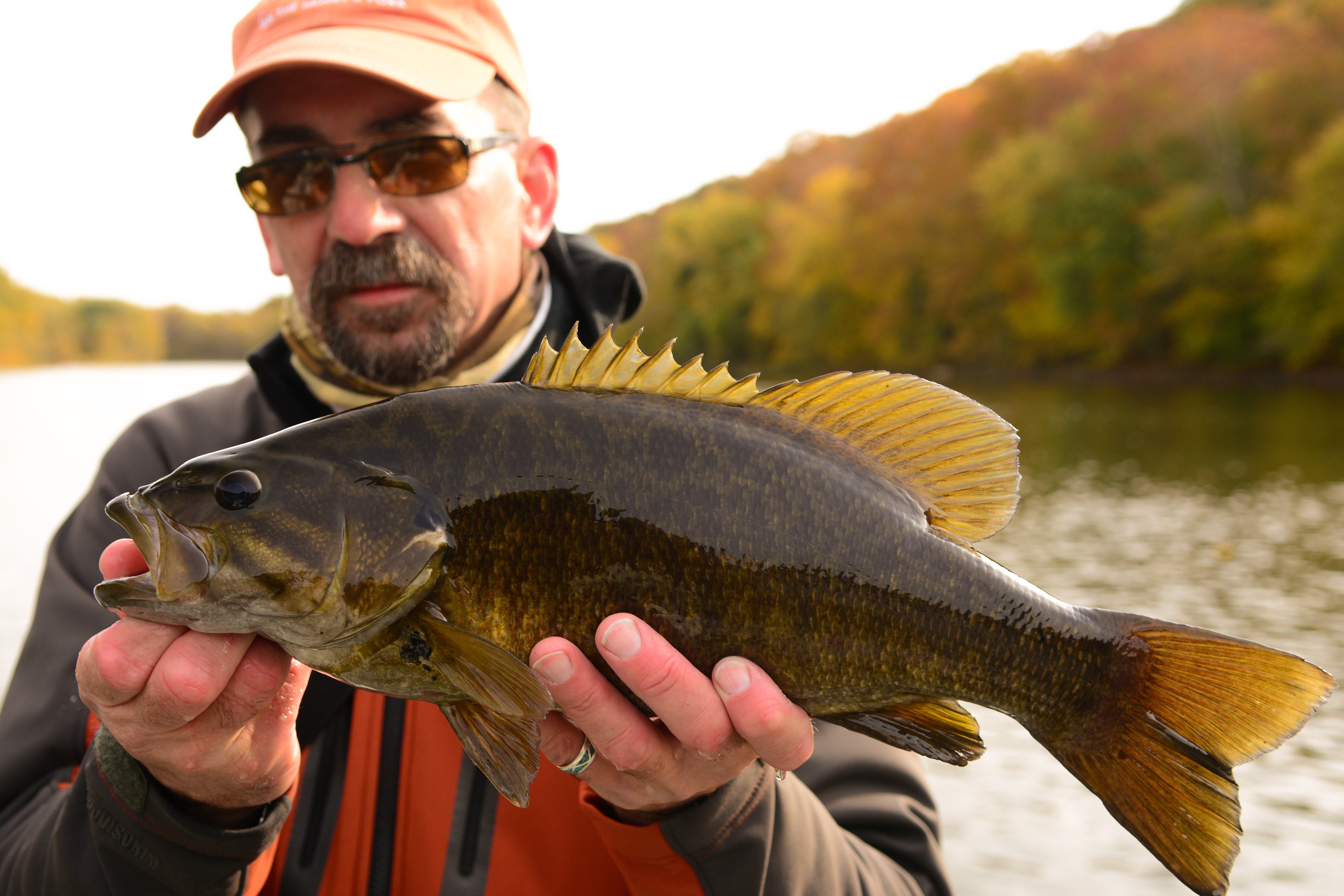 Something Different.....

November 02, 2015


This past Saturday was spent doing something different from the norm. I did a series of fly tying classes at the 28th GALA conference held in Reading, Pennsylvania. My friends and neighbors own a Llama farm and coordinated this years event which is for Llama and Alpaca enthusiasts. Llama dubbing is known a "fiber" among the people that raise them, and is a really unique material to work with and comes in a variety of colors, lengths and textures. Give this material a try and you will be surprised at the effects you can create with it. Check out other images on my Facebook page and check out their website at www.buckhollowllamas.com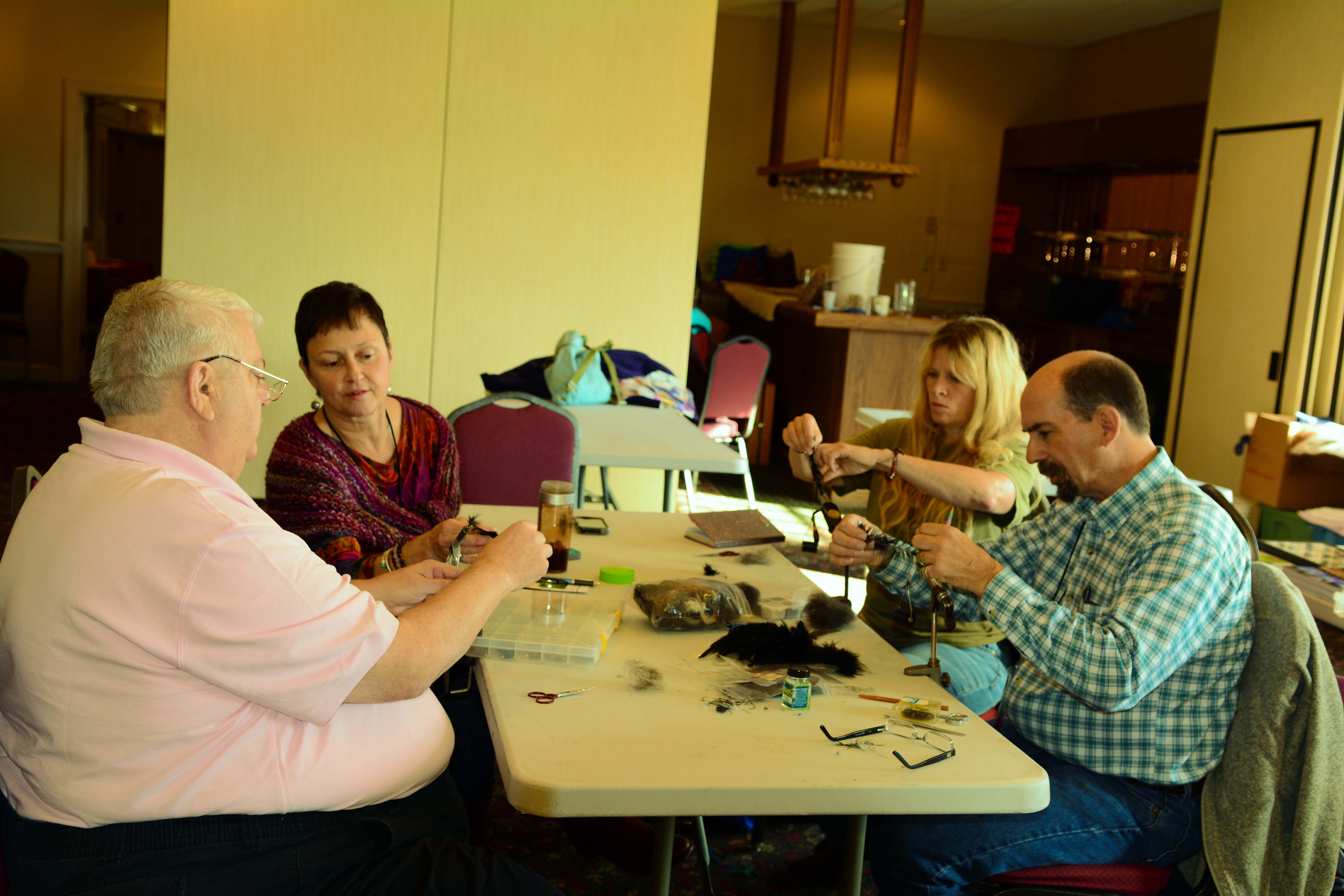 Talking About Bugs.....

November 09, 2015


This Thursday, November 12 I will be giving a talk on four of my favorite fly designs from "Matching Major Eastern Hatches" at the monthly meeting of the Valley Forge Chapter of Trout Unlimited in Malvern, Pennsylvania. My presentation will discuss four "go to" dry fly patterns; CDC Thorax Duns, Half & Hlaf Emergers, DNA Spinners and the CDC Adult Caddis and will talk about the thought behind the designs, the material used to make them and show some underwater perspectives that will bring it together. The presentation is at the Great Valley Middle School and begins at 7:30 PM. Pictured this week is my March Brown CDC Thorax Dun and it's natural counterpart. Hope to see you there!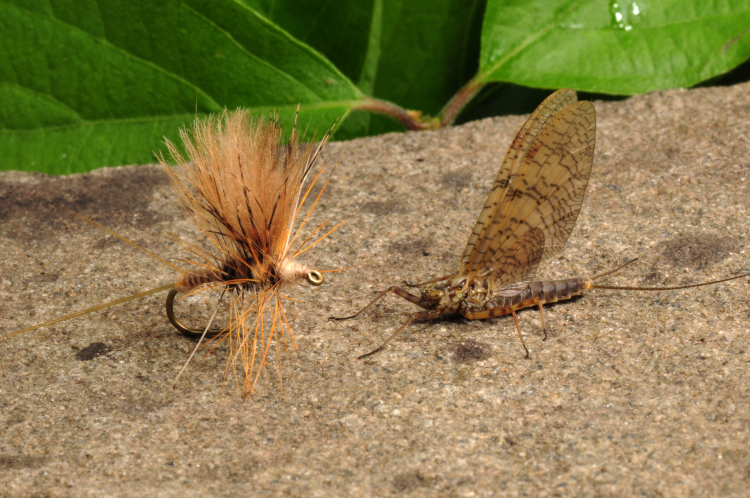 Recycling.....

November 30 2015


Recycling is a perfectly responsible thing to do in a world of diminishing resources right? It's what any red blooded conservationist should do, even a conservation minded fly tier right? So, why would a man like myself waste a perfectly good porcupine laying along the road? For those that haven't tried them porcupine hair or bristles make super quality tailing material for larger sized dry flies and for quill bodies. Skinning a porcupine is not a chore for the faint. I pull the bristles from the animal instead, wash them in a detergent or shampoo, and after drying them use a hair stacker to even them up for later use. The stacked bunches of bristles are wrapped together with tying thread which makes them quite easy to use when you sit down to tie flies. Recycling is just an environmentally responsible thing to do ...................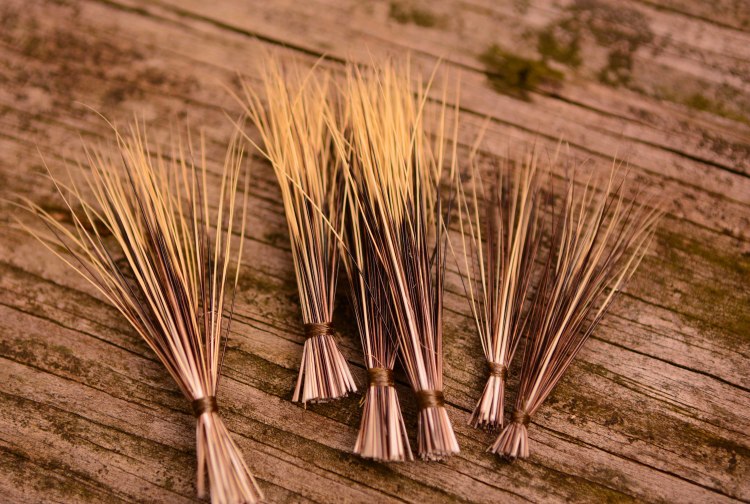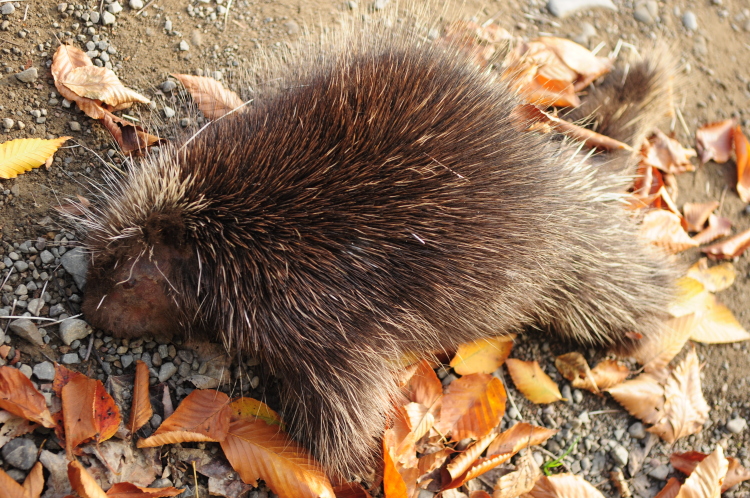 Fly Tyers in the Family .....

December 28 2015


By far one of the coolest Christmas gifts I've ever received was this metal fly sculpture from my Uncle Everett Ramsay. Aside from being an avid outdoors man and all around cool guy; he's a talented artist with wood and metal, building furniture and making some really cool metal sculptures with random pieces of scrap metal. I thought I was the only fly tyer in the family until this year! Very cool ........