IMAGE OF THE WEEK ARCHIVE

www.ramsayflies.com | 610.858.2426 | henry@ramsayflies.com

Early Stoneflies .....

January 04 2016


Today was the first cold day of the winter season here in eastern Pennsylvania; it's been a strange winter so far, with the temperatures going below 25 for the first time. On New Year's Eve I caught this little guy who seems equally confused about the season too. The Early Black Stoneflies of the Capniidae genus are the first insect hatches to appear every year and often start to show themselves in February. Despite it's small size which is equivalent to a size #18 hook, these are really cool bugs to start the season with and can be important in streams that have heavy populations of them.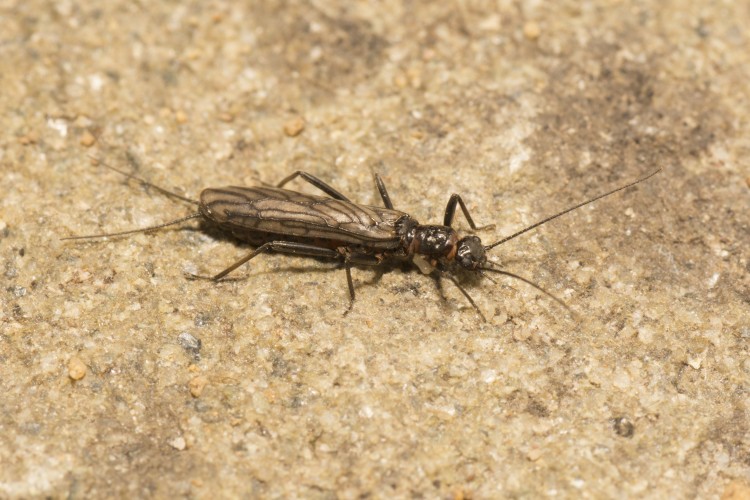 Quill Gordons .....

January 11, 2016


April seems like an eternity from today, but it will get here and hopefully my fly boxes will be in better shape and ready for it. A few weeks ago I found some feathers with the perfect coloration for this pattern. Here's a pattern to imitate the Epeorus pleuralis or "Quill Gordon" emerger really nicely. Quill Gordons are rather unique in the mayfly world because they hatch on the stream bed and swim to the surface as an adult insect. This looks like it will imitate that pretty well. Hook: Daiichi #1550 in size #12 or 14, tail: Lemon Wood duck fibers, abdomen: wild turkey biot dyed Wood Duck gold, thorax: English Hare dubbing and a sparse soft hackle collar finishes it off. A rusty dun hen hackle or Water Hen hackle does the trick well.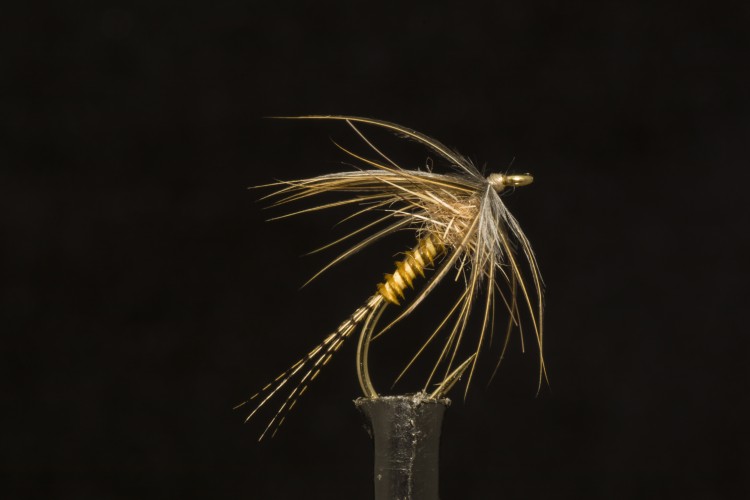 Another Soft Hackle Pattern .....

January 18, 2016


I've been tying a lot of Soft Hackle / North Country Spider patterns in the past few weeks and as always, I like to mix things up a little. One of my favorite feathers to tie with are from hen Ringneck pheasants. I use them extensively for legs on stonefly nymphs and collars on sculpin patterns but there are a lot of well marked feathers that also make excellent soft hackles. This one I call the "Hen and Straw" which has a body of Pearsall's Gossamer silk in Straw, a collar of English Hare and a hen pheasant hackle. The hook is a Daiichi #1550 in sizes #12 to 16. A great wet fly imitation of an emerging caddis or March Brown. Tie a few up and give them a try this spring ....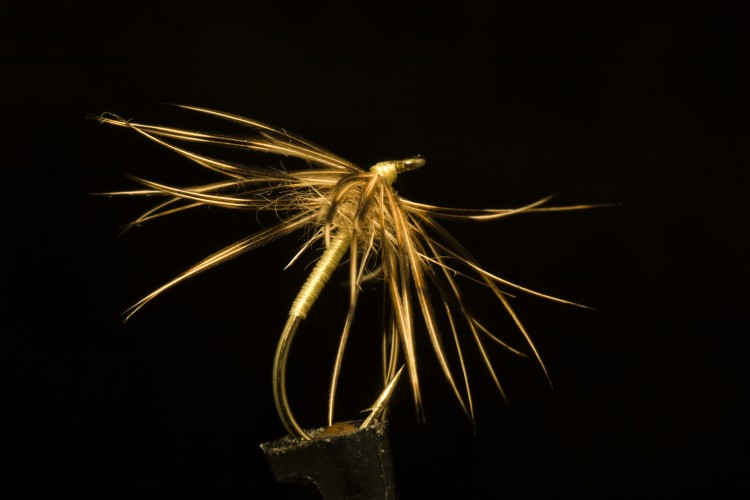 The Fly Fishing Show, Somerset Edition .....

January 25, 2016


This coming weekend I will be at the "Fly Fishing Show" in Somerset, New Jersey again and this year's presentation will be on my favorite mayfly hatch, the "Sulphurs". I will talk about simple identifiers to help you differentiate between them and other species that are often miss-identified, fishing tactics and successful fly patterns to imitate them. Friday the 29th my presentation will be at 3:00 PM, Saturday the 30th at 2:00 and Sunday the 31st at 1:00. I will be at the Authors Booth each day as well. Stop by and say hello and bring your copy of "Matching Major Eastern Hatches" to get signed, or pick up a copy if you don't have one. Looking forward to seeing so many friends there!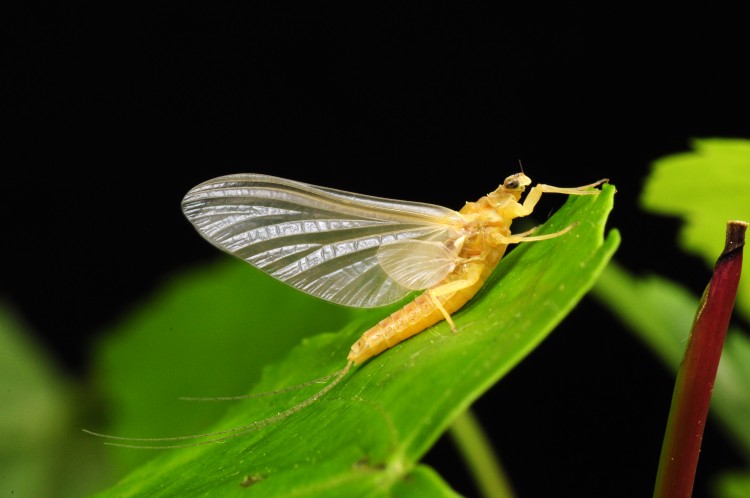 Stonefly Nymphs .............

February 01, 2016


What have I been tying lately? After tying a good supply of Soft Hackles, the nymph box is the next target and one of the holes was my supply of stonefly nymphs. This week's image is my favorite imitation of a Perla Stonefly which is realistic enough to suit a trout that is looking for that yet soft enough no to be rejected immediately. After years of trying a multitude of materials and patterns this has been the best pattern I've used to date. They are also a lot of fun to tie. Check out the pattern and tying recipe in "Matching Major Eastern Hatches" and add a few of them to your fly box.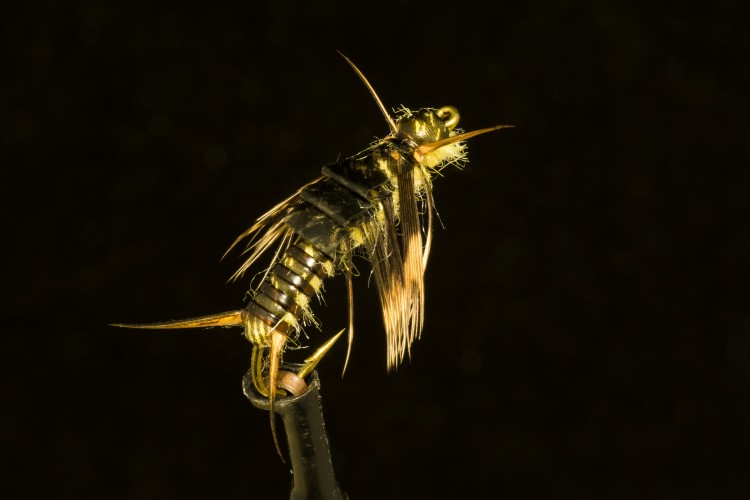 Early Brown Stoneflies .............

February 08, 2016


This week's post is another early season stonefly we will be starting to see on many of our eastern streams soon. This one is of a Strophopteryx fasciata stonefly more commonly known as the "Early Brown Stonefly" or "Mottled Willowfly". There are several species within the Taeneopterygidae family, this one is the most commonly distributed specie in the eastern US. Warm days can find them hatching at mid day and can produce some good early season dry fly fishing. I tie a color variation of my "Little Yellow Stone" by substituting brown hackle, brown dubbing and natural brown deer hair to match these.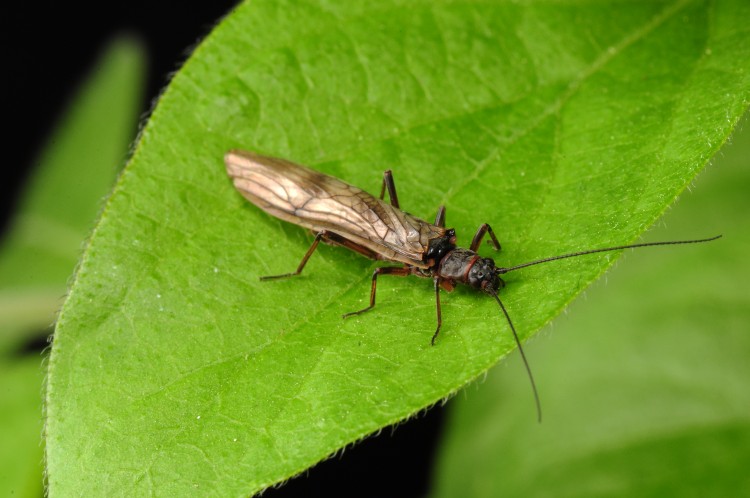 Hendricksons .............

February 15, 2016


Today was a paid day off from work, windy and snowing all day. What's a man to do ...........? Spring will be here before we know it and my stock boxes look pretty thin in a few areas, particularly the compartments that are labeled "Hendrickson". When spring does finally arrive I will be ready for these when they start to hatch. This week's pic is a female Ephemerella subvaria dun, more commonly known as the "Hendrickson". This is my favorite springtime mayfly and I will be ready for them!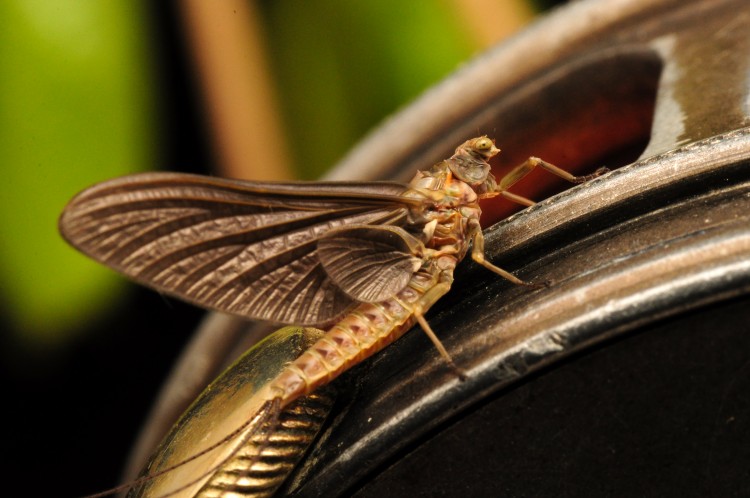 Hendricksons ............. Part II

February 22, 2016


Last week's post was an image of a female Hendrickson dun, aka "Ephemerella subvaria". Ace Catskill tyer and friend Mike Valla challenged me to post a pic of the fly I tie to imitate it; so Mike, this one's for you. My pattern which is based on Vince Marinaro's "Thorax Dun" design. The pattern is my go to when these are on the water and is tied as follows: Use Pink 8/0 Uni-Thread, Tails are dark dun Micro Fibetts separated with a small ball of Harrop Professional Dubbing in "Hendrickson", Thorax uses the same dubbing. The abdomen is a "Hendrickson" goose biot from Spirit River and the wing is Trouthunter CDC in Natural Dun. The hackle is Whiting Hebert Miner in Dark Brown Dun which is wrapped in open turns and clipped flat on the underside. Tie some up or $30 per dozen plus shipping from me.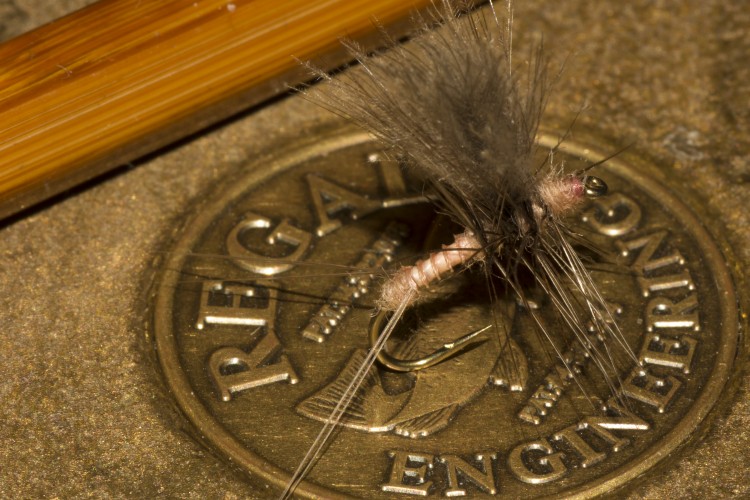 "The Fly Fishing Show, Lancaster, Pennsylvania"

February 29, 2016


This coming weekend I will be at the Lancaster, Pennsylvania edition of "The Fly Fishing Show" held at the Lancaster Convention Center on March 5 and 6. Each day I will be giving my presentation "Meeting and Matching the Sulphur Hatch" and signing books. I'm looking forward to seeing a lot of friends there. Stop and learn some things you might not know about one of the best mayfly hatches we have here in the eastern U.S. This week's image is of my Sulphur DNA Spinner, a great pattern to have when you find trout rising during spinner falls in the evening. I tie these in sizes #16 and 18 and have had some great experiences fishing them. Email me if you are interested in having me tie some for you, $30 per dozen plus postage.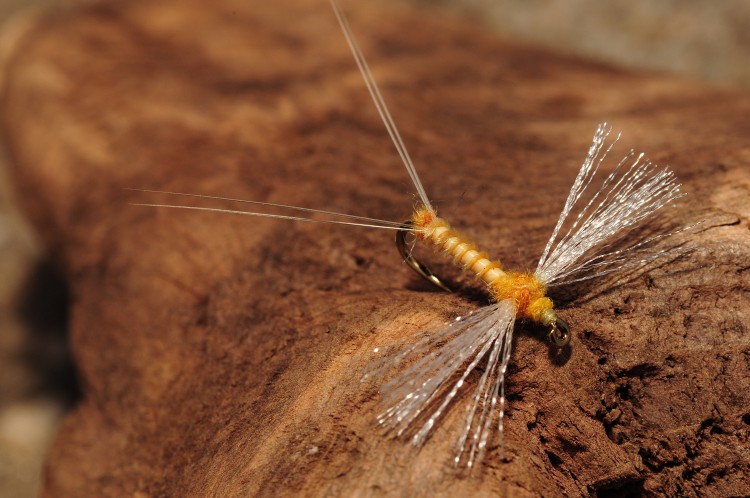 "The DOA Cripple Emerger"

March 07, 2016


Over the years I've become more and more dependent on fishing emerger patterns during a mayfly hatch rather than a dun imitation. Why? For a feeding trout they are easier to capture during this transition from nymph to dun, and my success on tough fish has improved. I tie a few different emerger designs which are tied in colors and sizes that are hatch specific and my fly boxes include my "Almost Dun", the "Half & Half Emerger", and this pattern I call the "DOA Cripple Emerger". The DOA does a great job of imitating an emergent mayfly at the film and uses soft materials that can move and create a more life like fly. This version is my "Red Quill" and is pretty wicked medicine during the Hendrickson hatch in a size #14. I also tie them to match a number of other mayfly hatches. Email me if you are interested in having me tie some for you, $30 per dozen plus postage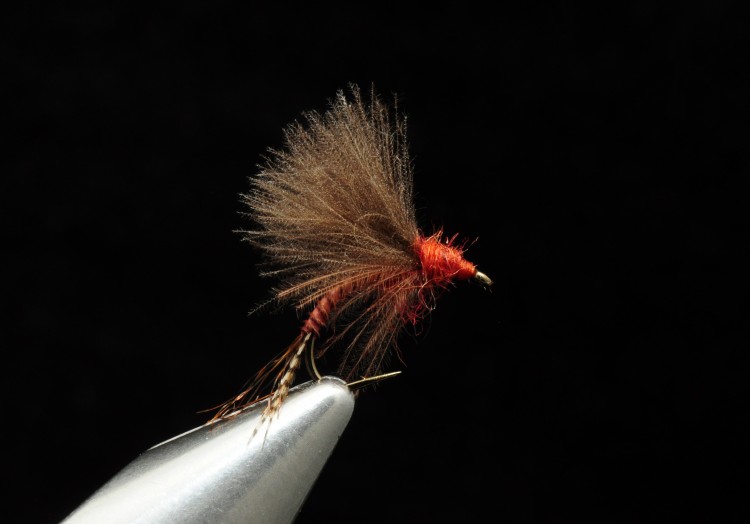 "First Day Out"

March 14, 2016


Last Friday was my first day on the water for 2016, and I spent it fishing a very unique stream in central Pennsylvania with Eric Richard of www.covetedwaters.com. We were treated to a great day with one of the heaviest Early Brown stonefly hatches I've ever experienced, unseasonably nice weather, Golden Eagles circling above and one of the most quiet places one would ever want to fish. This week's post is an image of Eric working his home water. Thanks Eric! We will do it again soon ........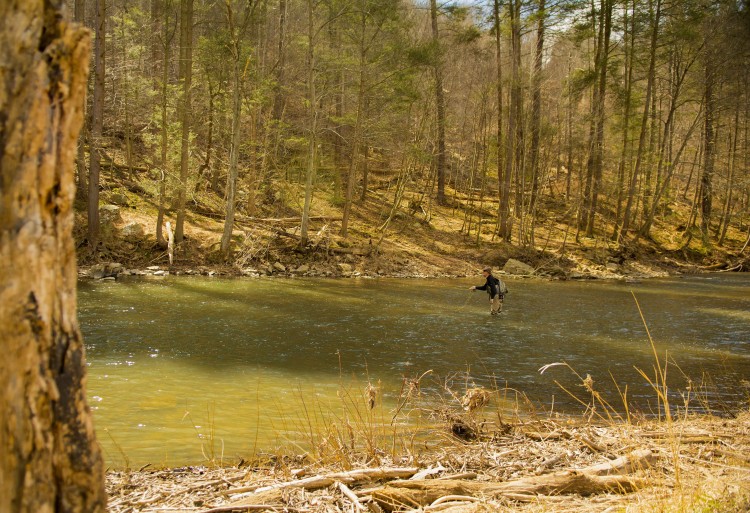 "Bug Geek of the Week" March 21, 2016
I haven't posted a "Mystery Bug" image for a while now, so why not give it a shot this week? This one will likely be a tougher challenge than some previous posts, so let's give it a go. A relatively uncommon mayfly here in the eastern U.S., but a remarkably cool cool one. The nymphs have some very cool markings and a unique emergence behavior. The only clues! I need to hear the correct genus and specie for you to earn the lofty title of "Bug Geek of the Week". The winner of course will receive a list of great prizes from my sponsors .......... I would award a prize if I actually had a sponsor! Let's see who really knows their bugs! This one should be fun .......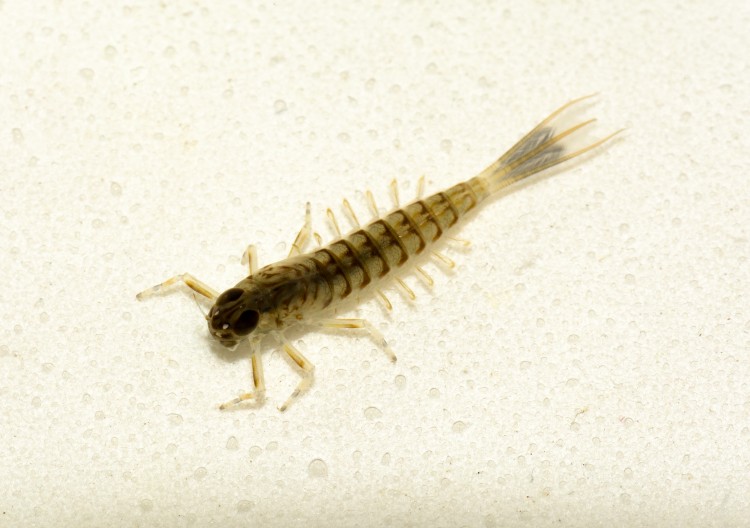 Some Days .............. April 04, 2016
Most days it's about what I have to do in a very busy life; working a very demanding job and taking care of business, other days it's about working hard to keep up with demands for flies, photos, writing and other responsibilities with my fly fishing work. Some days it's about unplugging from all of that and finding a quiet ribbon of water to wade in and spending some time leaving the rest of life behind even if only for a day. Some days it's about sharing the day on a stream with a friend or two and some days it's about holding one of these for a moment. Last Saturday was one of those .........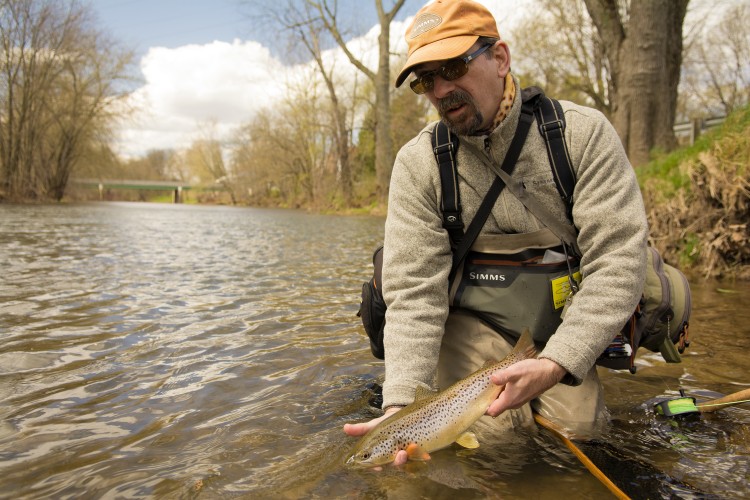 Announcement Time .............. April 11, 2016
I'm terribly excited and honored to officially be a contributing writer and photographer for Eastern Fly Fishing Magazine. The current issue's article on "Trout Foods" shows one of my images of a March Brown female dun. The summer issue will have my first feature article on Pennsylvania's version of "Trout Town". A huge thank you to Editor in Chief John Shewey, Jay Nichols of Headwater Books and my friend and ace fly tyer Mike Valla for their support in helping to make this opportunity happen. I'm looking forward to future work with this great magazine. Till then .........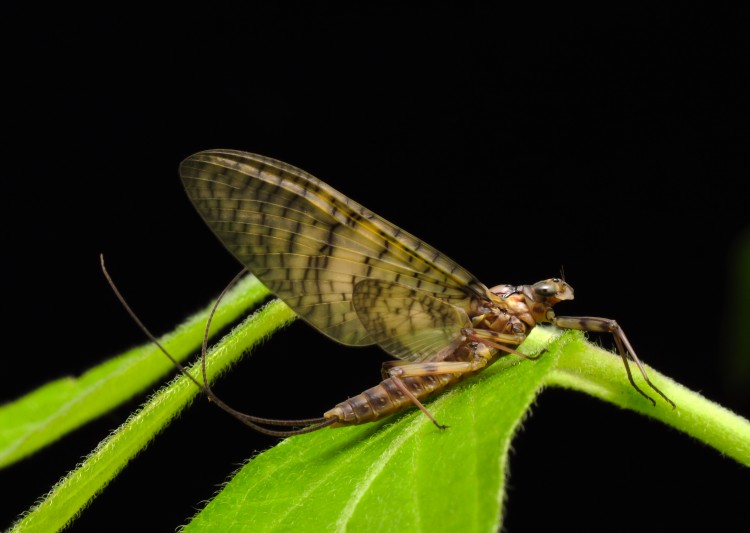 Quill Gordons and Such .............. April 18, 2016
I just got back from a few days at the legendary Henryville Fly Fishers Club near Tannersville, Pennsylvania. A really nice time fishing with Peter and John Leibundgut and Jeff German. I'm always honored by the chance to fish here, it's truly a great stream with a very rich history. The hatches were not very heavy this weekend, but there were light hatches of various caddisflies, Quill Gordons, Blue Quill and Baetis Olives. Pictured this week is a chunky brown from the famous "Coolidge Pool" that took one of my Quill Gordon CDC Thorax Duns. Thank you again Peter for inviting me to fish there again. Till next week ...............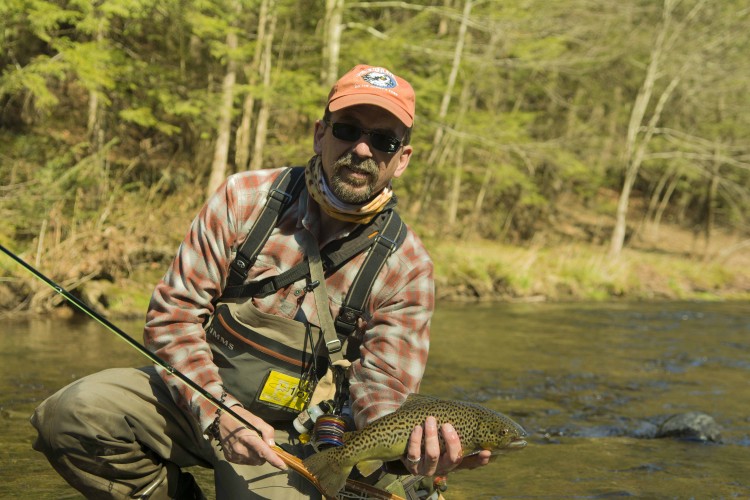 Survivors ..............

April 25, 2016


For a wild brown trout to attain significant size they have to survive a number of things, and their ability to do so is a testament to the instincts they have developed. A couple feet of wild butter that rose to one of my March Brown CDC Thorax Duns yesterday, and is my best Pennsylvania fish to date on a dry fly. Feeling very blessed to pursue these kinds of fish in some remarkable places and at times to be able to fool one of them. A nice male with the battle scars of years in the stream doing what they do, and most importantly surviving. A huge thank you to Josh Seidel for shooting this pic and to Eric Richard of www.covetedwaters.com for sharing some of the streams he loves, fishes and protects with me. Thank you brother!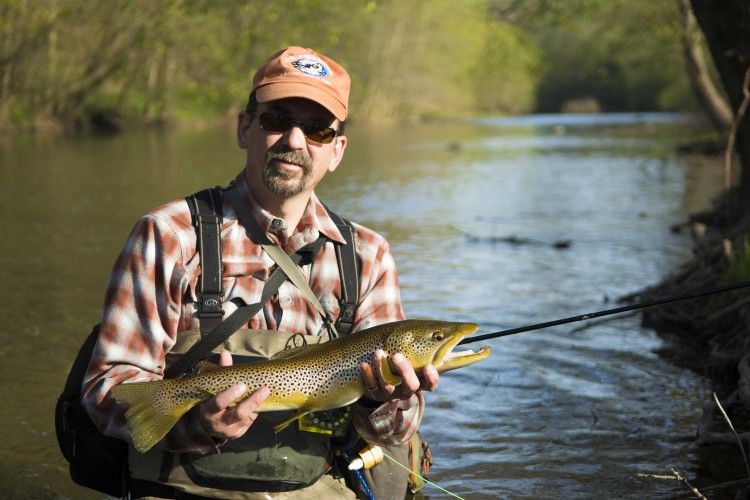 March Browns .............. May 02, 2016
Last week I posted an image of a beast brown I caught the previous day on a March Brown Thorax Dun. This week I thought I should followup with an image of the bug, so here we go. An image of a female "MacCaffertium vicarium" dun from a stream in central Pennsylvania. It seems that the best fish I've ever taken on the surface have been during a March Brown hatch or spinner fall. The weather this year has our hatches arriving way too early for my comfort; and hopefully the cool front we are having will slow things down. We could certainly use some rain too, our streams are very low for this time of year. I can't ever recall seeing these hatch this early before .......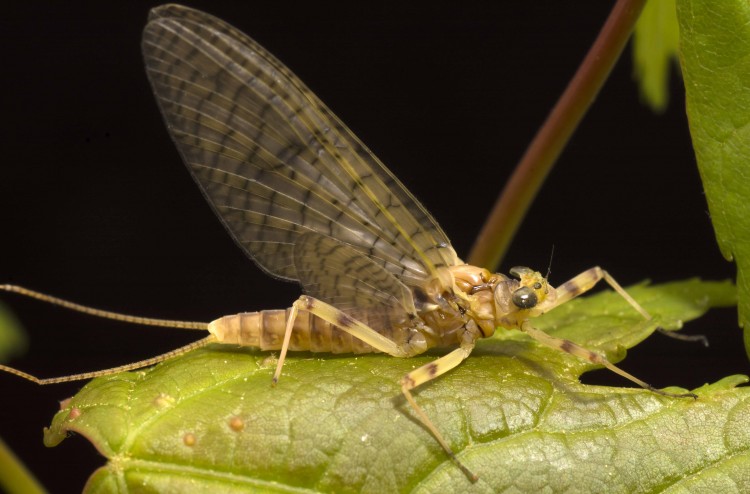 Connections.............. May 09, 2016
I heard an expression years ago that fly fishing is a sport that is all about connections; connections with the water, connections with friends, knotted connections between flies, leaders, fly lines and reels and connections with the fish themselves. This past Saturday I had the chance to connect with a friend from Utah and another from central Pennsylvania, floating a stream that has become very special to me. Dan Barr and I enjoyed a great day on the water with guide Eric Richard of www.covetedwaters.com and had one of those magical days that one never forgets; one that had all of those connections including this one I had with a beautiful wild brown. If you are interested in making this kind of connection, make the connection with Eric and see it for yourself. It's a good connection ..........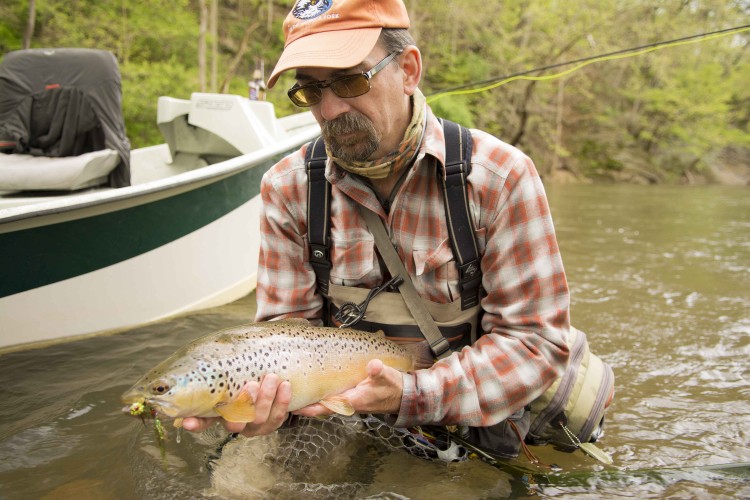 Part I, The Catskills ....... June 06, 2016
I purposely went off of the grid for a while and spent some time on the road visiting some of my favorite streams in Pennsylvania and New York. The first leg of my trip was to the Catskills; fishing both branches of the Upper Delaware river and the Main Stem. While the fishing was not as good as it normally is for late May, the McCloud strain rainbows of the Main Stem gave me some great fun during the morning hydropsyche caddis emergences. If you want to watch your backing knot flying out of your rod guides and listen to a screaming reel; hook one of these strong rainbows, they are some of the toughest fighting trout you will find anywhere. A nice MS rainbow that hammered one of my "Swimming Caddis Pupa" on the swing below Bard Parker. I'll post a collection from this part of my trip on my Facebook page.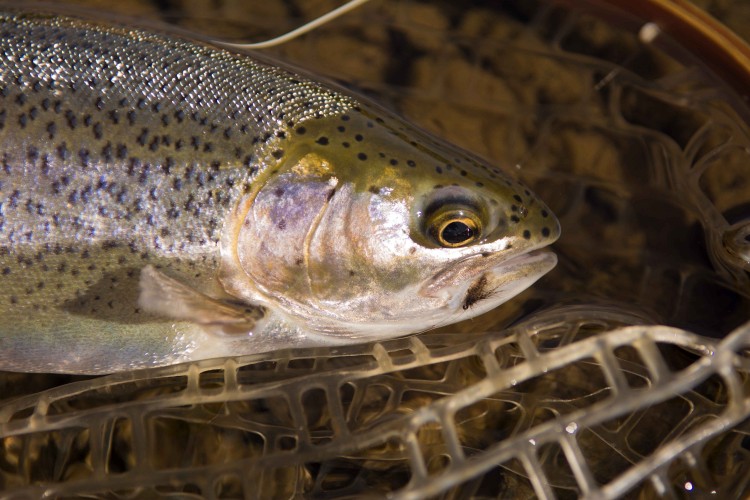 Part II, Upper Pine Creek Valley .......

June 13, 2016


Part II of my recent odyssey was a spent in the upper Pine creek valley on Slate Run, Cedar Run and Pine creek with my friend Dan Barr who was visiting from Utah. Cedar Run has always held a special place for me; it's a place I've spent a lot of time fishing and camping on, and it's where my old friend Charlie's ashes were mixed with it's current years ago. Downstream from Cedar's confluence with Pine creek is a bench installed as a memorial to another departed friend George "Doctor Bamboo" Maurer. Yes it's a special place and very special to me, and was awesome to share that with Dan. Pictured here is Dan working a beautiful pool on lower Cedar Run; a remarkable and very beautiful place. I'll post a collection from this part of my trip on my Facebook page also.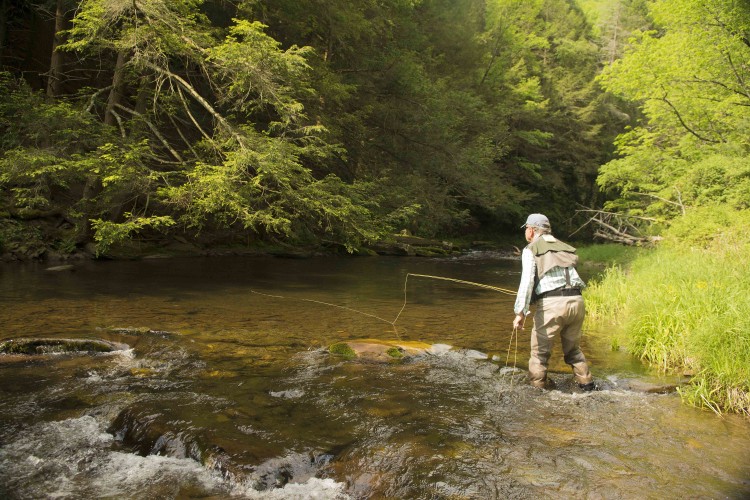 Part III, State College / NittanyValley ....... June 20, 2016
Part III of my recent odyssey was a spent in the State College / Nittany valley area on Spring Creek, Big Fishing Creek and the Little Juniata river with one of my favorite people Gavin Robinson. Lenny Gliwa came along and fished with us for two days too. This week's image is Gavin working the magic on a dead fall pool on Big Fishing creek. Although the fishing wasn't on fire, I had a really great time sharing the some of my favorite streams in the part of Pennsylvania with a few special friends. I'll post a collection from this part of my trip on my Facebook page also.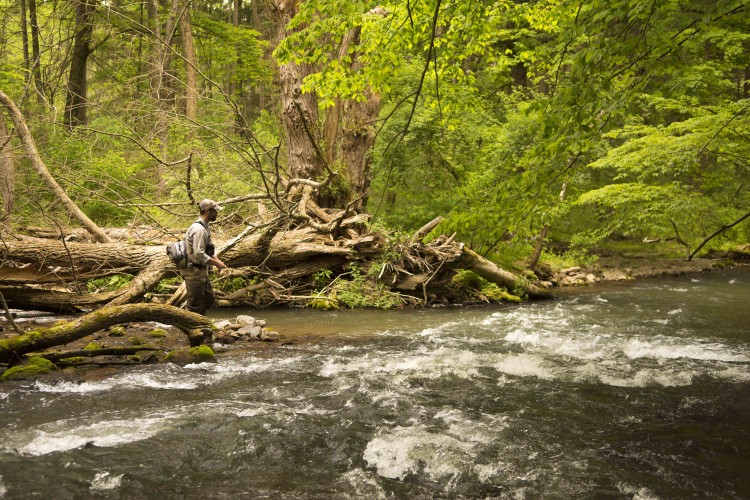 Hot Off the Press .......

June 27 2016


I'm honored, and in plain English pretty stoked to have my first feature article appear in the pages of "Eastern Fly Fishing" magazine. The article is titled "Trout Town, Carlisle, Pennsylvania" , "In the Footsteps of Legends" and talks about the famous streams of the Cumberland Valley; the Letort Spring Run, Yellow Breeches, Big Spring, Falling Spring Branch and Green Spring creeks. A huge thank you to Editor John Shewey for giving me chance to contribute and to Mike Valla and Jay Nichols for their support. Another article in this issue is on Cicada's and features one of my images of these cool insects. Enjoy .......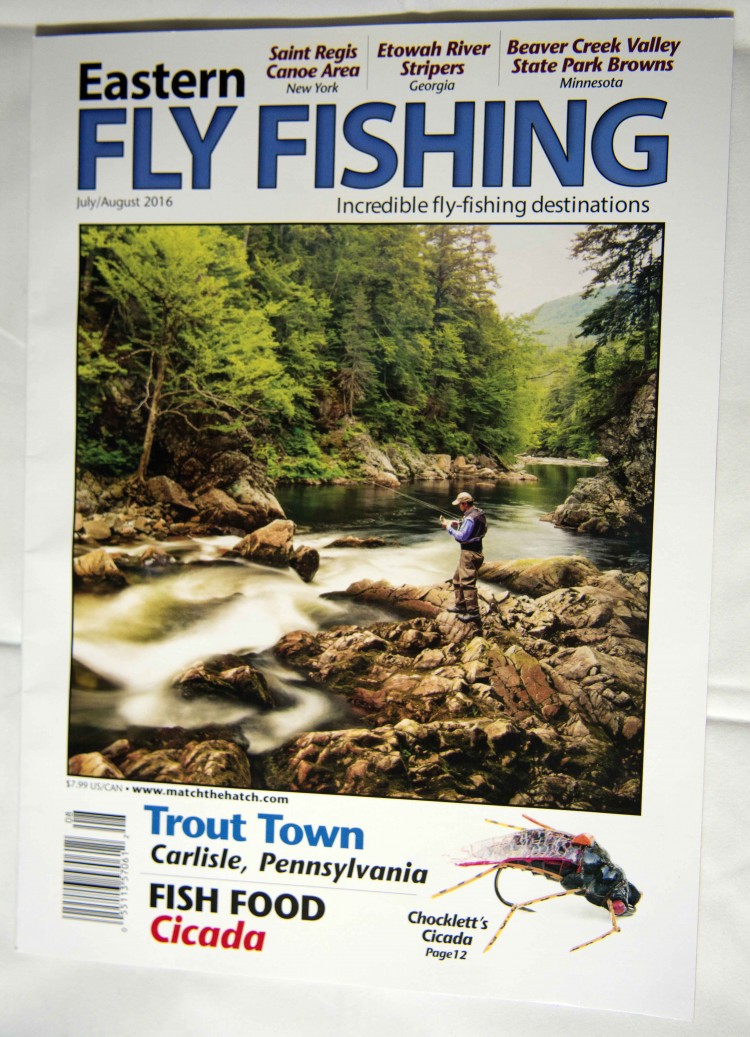 Head Water Surprises ....... July 05, 2016
I've always has a soft spot for the quiet and solitude of fishing small head water streams. While I enjoy fishing the big water there's something special about the smaller places tucked away in narrow valleys tangled with hemlock and Mountain Laurel thickets, places with cold, bright water and even brighter wild brook trout. Even more; it's about getting away to where there are no footprints and taking a light bamboo rod for a walk. While brookies are usually the game, once in a while I meet up with one of these. This week's post is a beautiful wild brown that moved up from the big water to find cooler currents and refuge. Sometimes it about surprises ...........

Ants, the Other White Meat .......

July 11, 2016


Most people view ants of any variety as a nuisance, but the trout on the other hand are terribly fond of them and carrying a variety of good ant imitations is often the key to summertime fishing success. When mating swarms of flying ants fall onto the water trout will become very selective to them and instantly ignore any other insect that might be present. Flying ant swarms occur without the predictability of other insects so the best approach is to have a few patterns in your fly box just in case, because when it happens you can have a great fishing experience. If you don't, you can practice your casting. Next week I'll post my favorite flying ant pattern with the tying recipe. Till then ........